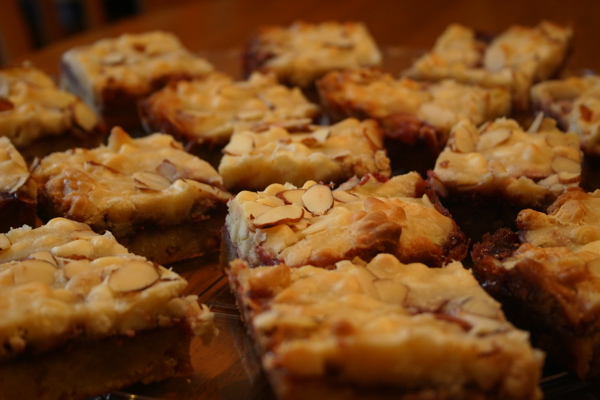 December is cookie season. We make cookies for friends, neighbors, coworkers, teachers, and even Santa. Cookies are great for inpromtu gatherings of friends.  They are a special treat after decorating, and of course you will need some for the cookie exchange that someone invited you to attend. I enjoy so many types of cookies that it is hard for me to choose which ones I want to make. I could probably spend hours upon hours in the kitchen baking cookies. So what is on your cookie list this year? Will it be these chocolate chips cookies? Will it be some of Jeffrey's favorites? If you love yourself, the answer is YES! You should seriously consider adding these raspberry bliss bars to your "must make list."
Raspberry Bliss Bars are one of my "go-to" recipes when looking for something that is different from the everyday, but still very easy to prepare.   These bars are one of my most requested deserts when I cater lunches.  They are just that good. Everyone loves them. So if you are looking for something a little different for your cookie exchange this year, you owe it to yourself to try these babies. You will not be disappointed, unless you take them to the exchange and then have none left for yourself.
I think they are just about perfect paired with a nice strong cup of coffee. You will love the richness the white chocolate brings and raspberry jam gives it just the right amount of tartness to contrast the sweetness of the white chocolate. I prefer to make mine with jam with seeds, but feel free to substitute seedless if you prefer.
So to help you get a boost onto your cookie baking this season I am giving away 2 sets of baking spices from Penzy's Spices. If you have not had Penzy's spices, you are missing out. They are amazing!
The Rules: Up to 3 entries per person, will ship to U.S. residents only. Commenting (collecting entries) will close on Sunday, December 5 at 10:00 am, EST. Two winners will be chosen at random and announced next week. Good luck! The three ways to enter:
First, please leave a comment on this post telling me your favorite cookie for the holidays.
Second, you can enter by subscribing to the Dinah's Dishes updates by email.  After you have subscribed, add a comment that indicates you have done so.
Third, share this post by Facebook or Twitter and then add a comment indicating you shared it.
Good luck!
Raspberry Bliss Bars
Ingredients:
1/2 cup (1 stick) butter
2 cups (12-oz package) white chocolate chips
2 eggs
1/2 cup sugar
1 cup flour
1/2 teaspoon salt
1/2 teaspoon almond extract
1/2 cup raspberry jam
1/4 cup sliced almonds
Directions:
Preheat oven to 325 degrees. Grease and flour a 9-inch square pan. Melt butter in a 2-cup measuring cup. Add 1 cup white chocolate chips and let stand for 5 minutes. DO NOT STIR! Beat eggs in large bowl until foamy. Add sugar; beat until it is a light lemon color (about 5 minutes). Stir butter mixture into the sugar mixture. Add flour, salt, and almond extract; mix on low speed until combined. Spread 2/3 of batter into prepared pan.
Bake for 15-17 minutes or until light golden brown around the edges. Heat jam for 30 seconds in the microwave; stir. Spread jam over warm crust. Stir remaining white chocolate chips into remaining batter. Drop spoonfuls of batter over jam. Sprinkle with almonds. Bake for 25-30 minutes. Let cool completely before serving.