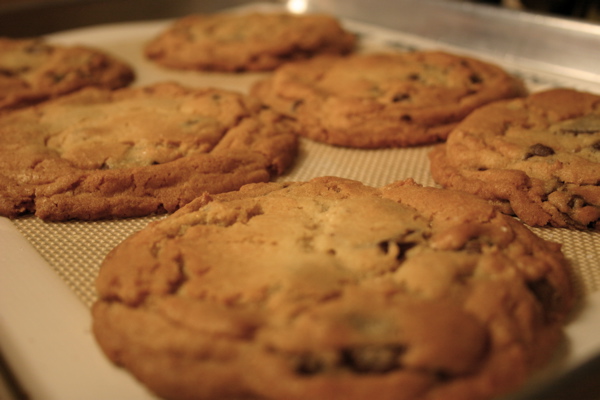 I stumbled upon this recipe a couple of weeks ago and the story behind the cookie intrigued me so much that I had to try them. According to an article from The New York Times (may require a free registration to read), the recipe on the Nestle bag for Toll House cookies actually left out a step from the original recipe. The missing step? It was letting the dough sit in the refrigerator overnight. The article states that letting the dough rest in the refrigerator lets the eggs absorb the flour better making a dryer dough. Intrigued? I was, so I made my dough and waited 24 hours.
I promised myself the cookies had to be worth it, and then I busied myself so I would forget about the tempting dough sitting in my fridge. Finally, the time was up and I was ready to get the dough in the oven.  The next change (for The New York Times best chocolate chip cookie) was to use a 1/3 cup mound of dough … seriously?!? I thought to myself "that is going to be one ginormous cookie" (5-inch diameter), but I figured I would suffer through it. Next, I was supposed to sprinkle the dough (the 1/3 cup blob of dough) with sea salt. I like sea salt.  I wondered if Jeffrey would. Oh well, I had come this far, no turning back now.
Once in the oven, the smell was amazing as they were cooking.  Surprisingly enough, somehow I was able to resist the 10 minutes of cooling on the pan before I dug in. MMMMMMMMM!!!!!!!! AMAZING! This is what happens when you combine some of the best tips and techniques from amazing bakers! You will not be disappointed. I was super glad that the missed step in the Toll House Cookie recipe had been rediscovered, which led to the discovering of "the best" chocolate chip cookie. The end result is a 5-inch cookie with a slightly crispy edge, chewy center and the right amount of sweetness. Just writing this makes me want another one. Too bad there isn't room in either one of my fridges at the moment for the dough to rest for 24 hours.
NYT Chocolate Chip Cookies
Ingredients:
2 cups minus 2 tablespoons (8 1/2 ounces) cake flour
1 2/3 cups (8 1/2 ounces) bread flour
1 1/4 teaspoons baking soda
1 1/2 teaspoons baking powder
1 1/2 teaspoons coarse salt
2 1/2 sticks (1 1/4 cups) unsalted butter
1 1/4 cups (10 ounces) light brown sugar
1 cup plus 2 tablespoons (8 ounces) granulated sugar
2 large eggs
2 teaspoons natural vanilla extract
1 1/4 pounds bittersweet chocolate disks or fèves, at least 60 percent cacao content (I used a combination of bittersweet chunks and semi-sweet chocolate chips.)
Sea salt
Directions:
Sift flours, baking soda, baking powder and salt into a bowl. Set aside.
Using a mixer fitted with paddle attachment, cream butter and sugars together until very light, about 5 minutes. Add eggs, one at a time, mixing well after each addition. Stir in the vanilla. Reduce speed to low, add dry ingredients and mix until just combined, 5 to 10 seconds. Drop chocolate pieces in and incorporate them without breaking them. Press plastic wrap against dough and refrigerate for 24 to 36 hours. Dough may be used in batches, and can be refrigerated for up to 72 hours.
When ready to bake, preheat oven to 350°. Line a baking sheet with parchment paper or a nonstick baking mat.  (A few years ago I invested in a few of these baking mats.  The work very well.) Set aside.
Scoop 6-1/3-cup mounds of dough onto the baking sheet, making sure to turn horizontally any chocolate pieces that are poking up; it will make for a more attractive cookie. Sprinkle lightly with sea salt and bake until golden brown but still soft, 18 to 20 minutes. Transfer sheet to a wire rack for 10 minutes, then slip cookies onto another rack to cool a bit more. Repeat with remaining dough, or reserve dough, refrigerated, for baking remaining batches the next day. Eat warm, with a big napkin.
Yield: 1 1/2 dozen 5-inch cookies.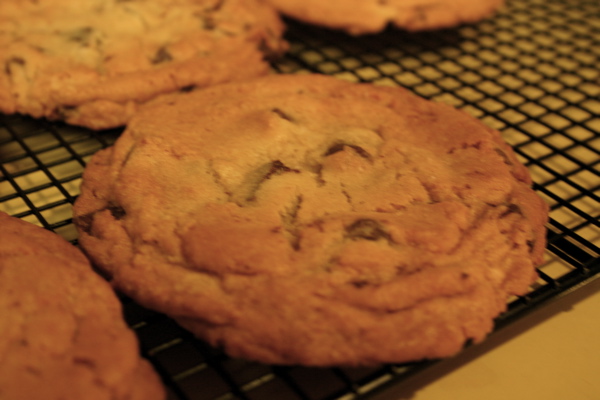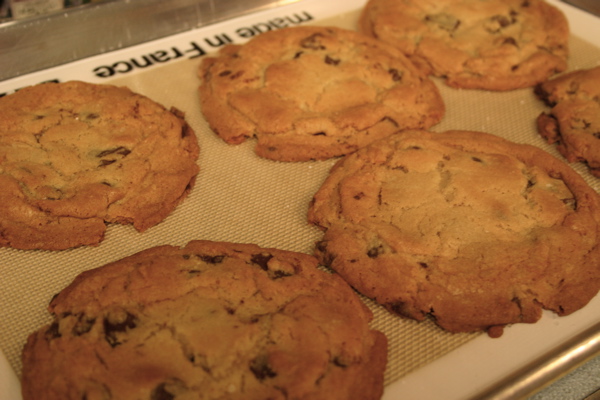 Adapted from Ezra Pound Cake.