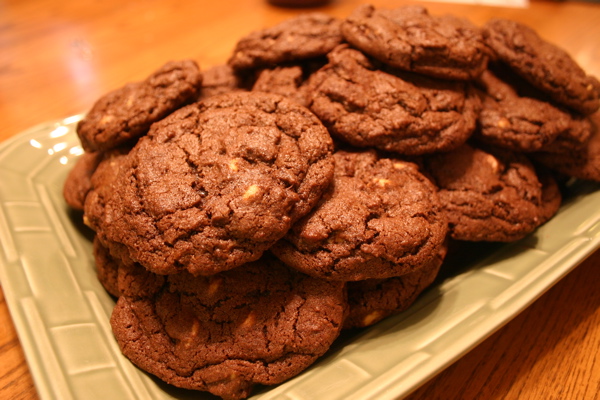 Ok, so I survived the first full day of school for William, the first day of kindergarten for Tyler, and Jeffrey survived launching my blog.  Jeffrey has been working so hard trying to get everything just right for my blog and when he thinks he is finished I will say "what about changing (insert something related to the blog here)?" and he is gracious enough to work on whatever that is too.  I am so thankful to have a computer nerd for a husband.  He is the best.  Well I decided that as a reward for his labors I would make his favorite cookie.  They are delicious.  I normally make a whole batch of the batter but then just cook enough cookies for us to eat so we can always have them fresh.  I don't think there is anything better than fresh out of the oven cookies.  YUMMMY!  The batter will last in the fridge for a week but you also could scoop them out and then freeze them so you could have some on hand longer.  I don't think they will last that long at our house.
We try to make the first week of school a fun time, and we do lots of "special" treats throughout the week so we aren't so sad that our pool days are over.  I can't say we had a lazy summer because we always seemed to have something going on, but we do get a lot of time in at the pool.  I think it is important to make back to school fun; so whatever it takes to get the year off to the right start we do it.  Some of our special treats besides these cookies are each kid gets to choose the dinner of their choice one night, special desserts, and special breakfasts.  I'm thinking about making ice cream sandwiches with these cookies and the peanut butter ice cream from yesterday. So many possibilities. I can't wait to share some of the other yummy things with you in the next couple of days.
Chewy Chocolate Cookies with Peanut Butter Chips
Ingredients:
1 1/4 cups butter, softened
2 cups sugar
2 eggs
2 teaspoons vanilla
2 cups unsifted flour
3/4 cup cocoa powder
1 teaspoon baking soda
1/2 teaspoon salt
10 oz package peanut butter chips
Directions:
Cream butter and sugar in a large mixing bowl until light and fluffy. Add eggs and vanilla; beating well. Combine flour, cocoa, baking soda and salt; gradually blend into creamed mixture. Stir in peanut butter chips.
Scoop out with medium size scoop onto ungreased cookie sheets. Bake at 350° for about 8 minutes. Do not overbake. Cookies will be soft. They will puff during baking and flatten upon cooling. Cool on pans until they are set about 8 minutes. Remove from cookie sheet and cool completely. My recipe made 42 cookies but I used a medium sized scoop. If you use a smaller scoop you will yield more cookies but make sure you watch them while they cook so you don't over bake.