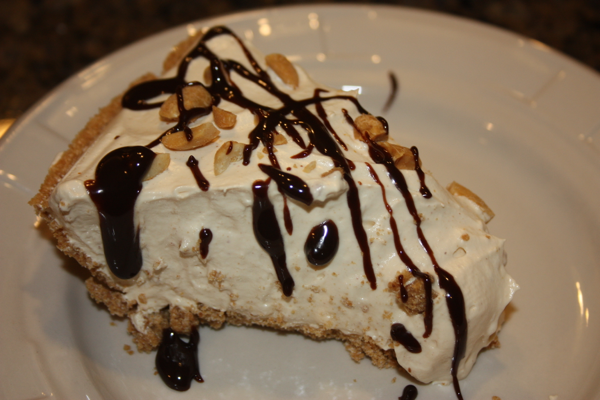 Over the holidays we had cookies, cookies and more cookies. Not that I am really complaining. In truth, I was mostly responsible for the cookies around our house. Honestly, when we were practicing scruffy hospitality it was fun to have a platter of different cookies as our dessert. It made for easy entertaining and you could taste lots of different flavors or eat several of the same kind.
Now that our cookie supply has dwindled I was wanting a dessert last week and I thought about peanut butter pie. I am pretty much a lover of peanut butter anyway in any form and I had a store-bought gluten-free graham cracker crust in my pantry so this was an excellent choice for an easy dessert.
I love the pie as is with just some chopped peanuts on top for garnish, but the boys decided to drizzle theirs with some hot fudge sauce. I think either option would be great. I just chose to be a peanut butter purist this time. All and all it was a great ending to our dinner of Tequila-lime chicken chili.
Peanut Butter Pie
indredients:
4 ounces cream cheese
3/4 cup powdered sugar
1/2 cup creamy peanut butter
1/2 cup milk
8 ounces cool whip
9-inch graham cracker crust (I used gluten-free.)
1/4 cup chopped peanuts for garnish
chocolate syrup for garnish
directions:
Whip the cream cheese until soft and fluffy. Beat in the powdered sugar and peanut butter. Slowly beat in milk. Fold in the cool whip. Pour the filling into the pie shell. Sprinkle peanuts over top. Freeze until firm. Drizzle with chocolate syrup when ready to serve, if desired.
*If storing for more than several days wrap pie in foil.