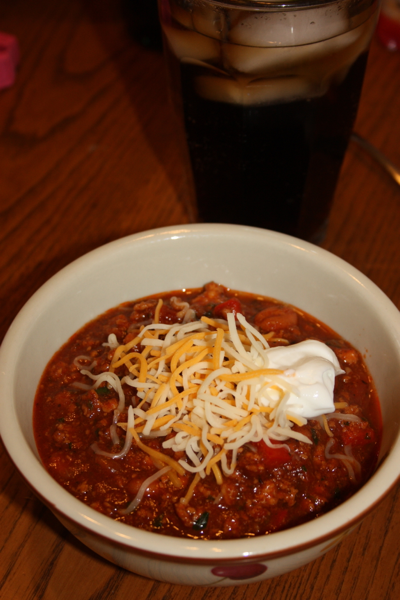 I am fully aware that chili isn't a recipe you would normally think about in May. By this time, we should be thinking about picnics. Instead of picnics, as I write this post snow is falling. I won't speculate as to why the weather is so crazy, all I'll say is this is nuts! I guess I've been living in the Midwest long enough not to be freaked out by snow, but it does seem a bit odd. The boys are hoping that they can still get in their soccer games this weekend.
At any rate, the colder weather provided an excellent opportunity to try out a new chili recipe. I think some folks stop experimenting and simply use their go to recipes, but if I see a new recipe to try, I'm willing to mix things up even with a family favorite like chili. That isn't to say that I'll stop making my normal beef chili, but this will definitely start making regular appearances at my house.
This chili has several different ingredients. Instead of beef, it uses ground chicken or turkey. This change alone reduces the grease in the chili. Do you know how chili sometimes has the grease on the top when it cools? This chili doesn't have anything like that. The lean protein also really allows the other favors to shine through. I like the way the lime and fresh cilantro really freshens up this chili. If you experience a strange cold snap in your neck of the woods, why not try this new recipe? It may make a great dish for Cinco de Mayo this year if our weather continues to be crazy.
Tequila-Lime Chicken Chili
Ingredients:
1 slice sandwich bread, torn into pieces (I used gluten free)
2 tablespoons milk (lowfat is fine)
1 pound ground chicken
salt and pepper
2 tablespoons canola oil
1 large onion, finely diced
1 bell pepper, diced
1 jalapeno, ribs and seeds remove, minced
2 tablespoons chili powder
2 tablespoons tomato paste
4 cloves garlic, minced
2 teaspoon ground cumin
2 teaspoon minced fresh oregano, or 1/2 tsp dried
1 15-oz can tomato sauce
1 14.5-oz can fire-roasted diced tomatoes
1 (15-oz) can pinto beans, drained and rinsed
3 tablespoons tequila, plus more as needed
2 Tablespoons low-sodium soy sauce (make sure it is gluten free)
1 Tablespoon honey
1 teaspoon minced chipotle en adobo (make sure it is gluten free)
1 teaspoon grated lime zest
1 Tablespoon fresh lime juice, plus more for serving
1/4 cup minced fresh cilantro
Shredded cheese and tortilla chips for serving
Directions:
Mash the bread and milk into a paste in a large bowl using a fork. Mix in the ground chicken, 1/4 tsp salt, and 1/4 tsp pepper. (If using gluten free bread you may need to increase the milk by a tablespoon to make the paste.)
Heat the oil in a large dutch-oven over medium-high heat add the onion, bell pepper, and jalapeno, and cook until they are softened, 5-7 minutes. Add the chili powder, tomato paste, garlic, cumin, and oregano and cook an additional 3-5 minutes.
Stir in the chicken and cook, breaking up any large pieces with a wooden spoon, until no longer pink, about 3-5 minutes. Stir in the tomato sauce, scraping up any browned bits.
Add the diced tomatoes with their juices, drained pinto beans, 3 tablespoons of tequila, soy sauce, honey, and chipotles. Cover and simmer on low until the turkey is tender and the flavors come together, 2-4 hours.
Remove from heat and allow the chili to settle about 5 minutes. Break up any remaining large pieces of chicken with a spoon. Stir in the lime zest, lime juice, and cilantro. Taste and season with additional salt, pepper, tequila, and lime juice as desired.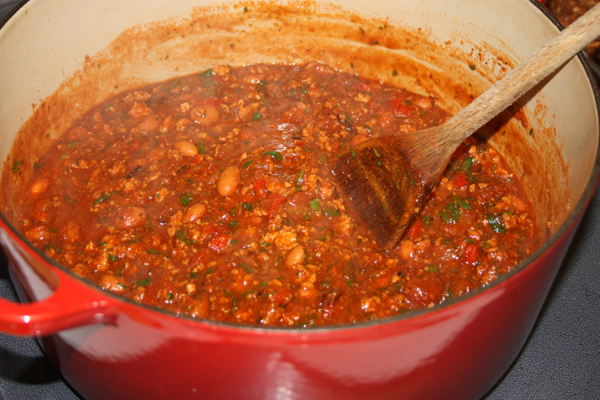 Adapted from America's Test Kitchen, Slow Cooker Revolution