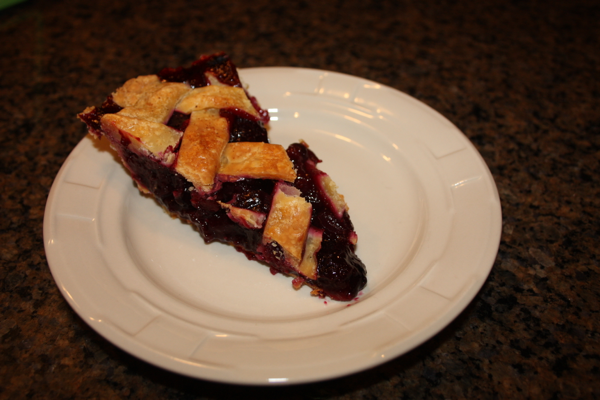 I hope you and your family had a wonderful Thanksgiving. We had a great time at ours and I was truly thankful for my new kitchen. It is so much easier to have a crowd in the kitchen with the larger footprint.  I cooked the largest turkey I've ever cooked (he was over 28 pounds!) and we had quite the crowd though with all the room we could have had a few more without any difficulty. We enjoyed the feast and I don't think anyone left hungry.
As you might guess, we had the traditional pies (Pumpkin, Pecan, & Apple), but I decided to make a gluten free fruit pie for Tyler. Knowing him, I thought he would like a pie that was both sweet and tart at the same time. I saw this pie and I thought it would be perfect. It was very delicious. I loved the sweetness of the blueberries mixed with the tartness of the cranberries. I'm sure I will be making this pie again before cranberry season is over. It will be a great addition to my holiday treats. Jeffrey enjoyed his pie with a bit of whipped cream though I think it was excellent without any embellishment.
Blueberry-Cranberry Pie
ingredients:
For the filling:
16 oz. frozen blueberries (do not thaw)
12 oz. fresh or frozen cranberries (do not thaw if frozen)
1 1/4 cups sugar
3 tablespoons cornstarch
2 cinnamon sticks
1 tablespoon freshly squeezed lemon juice
1/2 teaspoon finely grated lemon zest
2 disks pie dough for a double crust pie (I used pre-made gluten free crusts.)
Heavy cream, for brushing
Grated nutmeg, for sprinkling
directions:
To make the filling, combine the frozen blueberries, cranberries, sugar, cornstarch, cinnamon sticks, lemon juice and lemon zest in a medium-large saucepan. Cook over medium-high heat, stirring often, until the mixture thickens and begins to boil, about 12-14 minutes. Once the mixture reaches a boil, continue boiling for 2 minutes more, stirring constantly. Remove from heat and set aside to let cool completely before proceeding.
When you are ready to bake the pie, preheat the oven to 400˚ F. Roll out one disk of pie crust on a well-floured surface into a 12-inch round. Line a 9-inch pie plate with the crust. Remove the cinnamon sticks from the filling mixture, then spread the filling into the bottom pie crust. Roll out the remaining disk of pie dough and cut into thin strips. Use the strips to form a lattice over the top of the filling. Cut off the excess crust and pinch the edges together, using your fingers to create a fluted pattern. Lightly brush the top crust of the pie with heavy cream. Sprinkle grated nutmeg over the crust.
Place the assembled pie on a baking sheet to catch any fruit that may overflow as baking. Bake in the middle of the preheated oven for 60-70 minutes. (The filling will be bubbly.) If the crust seems to be browning too quickly, loosely tent with foil to prevent over-browning. Let cool on a wire rack to room temperature.