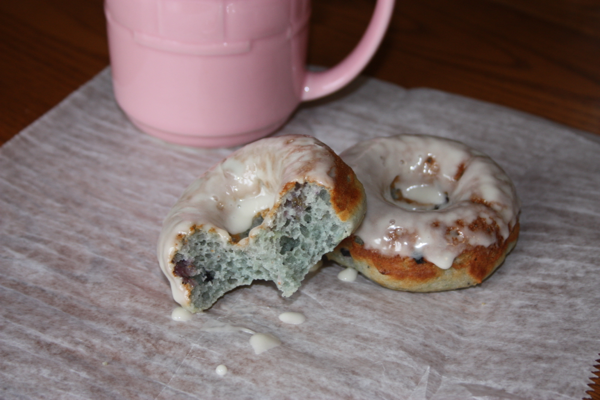 I will confess that I love donuts. We have a local shop just around the corner from our house with delicious donuts.  Occasionally on a Saturday morning, I would surprise the boys by taking them to get donuts. Since Tyler is now eating gluten free  food and I'm cutting out more and more gluten, the unfortunate fact is that our favorite donut place is not a place we can visit. I am sad because they had the best apple fritters and cake donuts with peanuts. Oh well!
It is the love for these occasional treats that keeps me busy in the kitchen. This past week had been quite hectic in our household so I knew we needed a treat on Saturday morning. So after sleeping in a bit longer than normal, I headed to the kitchen knowing I wanted to attempt a blueberry cake donut. As a child, Dunkin Donuts always had the best munchkins and blueberry was my favorite flavor. In recent years, I tried their donuts again and they don't quite live up to my memories. (It was my mission to try and replicate the donut of my memories.)
I was very pleased with the results of my experiment  the donuts were delicious. I am not sure it was exactly like the donut I remembered from my youth, but it was pretty darn good. It was actually better than pretty darn good because it also fit the bill of being gluten free. Tyler loved, loved, loved them and proclaimed he was in heaven. I'm not sure that they were that good though I am pleased that they are giving him his occasional donut fix. Perhaps I'm selling myself short as Tyler can be a pretty tough food critic.
GF Blueberry Cake Baked Donuts
ingredients:
1 1/2 cups all-purpose flour (gluten-free) I used Trader Joe's.
1/3 cup granulated sugar
1 teaspoon baking powder
1/2 teaspoon baking soda
1/4 teaspoon salt
1 egg
1/2 teaspoon vanilla
6 oz container Chobani blueberry Greek yogurt
1/3 cup canola oil
1/3 cup milk
1/4 cup blueberries, chopped
Glaze:
1 cup powdered sugar
1/2 teaspoon vanilla
1 tablespoon white corn syrup
1-2 tablespoons milk (until glaze is the desired consistency)
directions:
Preheat oven to 350. Lightly grease two 6 count donut pans with cooking spray or vegetable oil. (or just make the donuts in two batches, like I did)
In a medium bowl, whisk together flour, sugar, baking powder, baking soda, and salt. Set aside.
In a small bowl, whisk together egg, yogurt, oil, vanilla and milk. Add to dry ingredients and stir just until combined. Fold in chopped blueberries.
Fill each donut indention about 2/3 full making sure to not fill over the middle.
Bake for 12 minutes. Remove from oven and cool in the pan on a wir rack for 1 minute. after the minute turn out onto the wire rack and cool until cool enough to handle to dip in the glaze. (If only using one pan repeat with the remainder of the batter.)
For the glaze;
Whisk together powdered sugar, vanilla, corn syrup and milk to create a thin glaze.
Take each donut & dip it into the glaze.