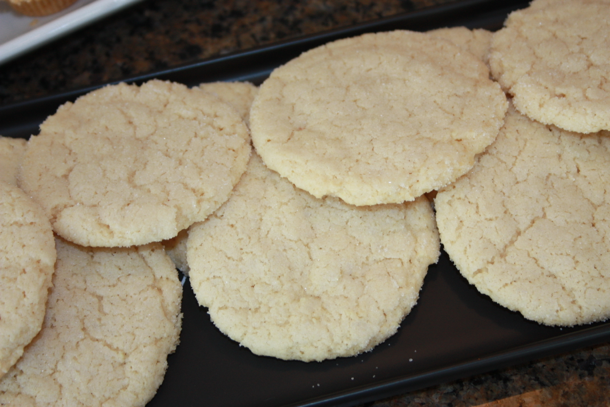 I have always been a fan of sugar cookies. Since we started making mostly gluten free goodies, I have been relying on a box for my sugar cookies. They are pretty good and with a slathering of frosting they resemble my loft house cookies, but I wanted to find a delicious sugar cookie that didn't need the frosting.
Looking back, I should have known that the first place to look should be The How Can It Be Gluten Free Cookbook: Revolutionary Techniques. Groundbreaking Recipes.
. I have had the cookbook since it first came out though I didn't make their sugar cookies until the 4th of July. After the first bite, I was kicking myself for not making them sooner. These are absolutely the best sugar cookie I have ever tasted! Gluten Free or not!
These are sweet but not to sweet and have the perfect crumb and chewiness. Even after a few days in the pantry they are still quite delicious. I have frozen half of my cookies before baking and they also cook up quite nicely. Come back on Thursday to see how I made these cookies even more delicious.
GF Sugar Cookies
ingredients:
8 ounces (1 3/4 cups) ATK Gluten-Free Flour Blend*
4 ounces (3/4 cup plus 2 tablespoons) almond flour
1 teaspoon baking powder
1/2 teaspoon baking soda
1/2 teaspoon salt
1/2 teaspoon xanthan gum
8 3/4 ounces (1 1/4 cups) sugar, plus 1/3 cup for rolling
3 ounces cream cheese, softened and cut into 8 pieces
8 tablespoons unsalted butter, melted and still warm
1 large egg
1 tablespoon vanilla extract
directions:
Whisk flour blend, almond flour, baking powder, baking soda, salt, and xanthan gum together in medium bowl; set aside. Place 1 1/4 cups sugar and cream cheese in a large bowl. Place remaining 1/3 cup sugar in a shallow dish and set aside. Pour warm butter over sugar and cream cheese and whisk to combine. Whisk in egg and vanilla and continue to whisk until smooth. Stir in flour mixture with rubber spatula and mix until soft dough forms. Cover bowl with plastic wrap and refrigerate until chilled, about 30 minutes. The dough will be sticky and soft.
Adjust oven rack to middle position and heat oven to 350 degrees. Line 2 baking sheets with parchment paper or silicone baking mats. Using a medium scoop, scoop out dough (about 2 tablespoons of dough) and roll in sugar. Place on prepared sheets about 2 inches apart. Press dough to 1/2 inch thickness using the bottom of a measuring cup. (At this point you may stick these in the freezer and once frozen place in zip top bags for later use. When ready to bake just place frozen dough on baking sheet and cook for 12-14 minutes but you may need to add a few minutes. I just set the time for the original and adjusted as needed.)
Bake cookies, 1 sheet at a time, until edges are set and just beginning to brown, 12-14 minutes, rotating baking sheets halfway through baking. Let cookies cool on sheet for 5 minutes, then transfer to wire rack. Store cooled cookies in an airtight container.
*ATK Gluten-Free Flour Blend
24 ounces (4 1/2 cups plus 1/3 cup) white rice flour
7 1/2 ounces (1 2/3 cups brown rice flour)
7 ounces (3/4 cup) tapioca starch
3/4 ounce (3 tablespoons) nonfat milk powder
Whisk all ingredients together in a large bowl until well combined. Transfer to airtight container and refrigerate for up to 3 months.
**I use all of Bob's Red Mill flours and starches to make this flour mix.