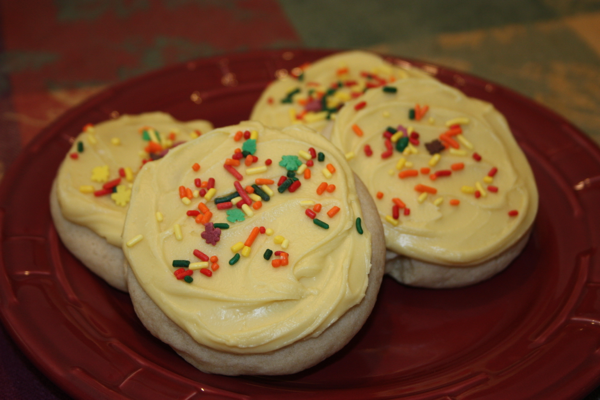 One of my favorite things to do is baking in order to share with others. I enjoy seeing someone smile after tasting something that I have cooked. I sometimes wonder if it is like the joy musicians have while they are preforming for an audience.  At any rate, this week Tyler's teacher asked if I would bring a special treat for our student teacher who will be going to another school for her next rotation. I was honored to be asked to bring a treat.
October is sugar overload at our house because of birthday celebrations and Halloween, but I knew I wanted to make these cookies. (One of the benefits for making treats for others is that while you normally have a few left over for the family the vast majority of the treats leave your house. That fact keeps you from eating way too many. :))
I made these cookies for the first time this summer, but wasn't completely satisfied with how they came out so I knew it was time to give it a second try. The first time I pressed the cookies so that they were too thin and they seemed to prone to crumble or break in half. I barely pressed them this time and had much better results. I also kept my frosting pretty thick (almost so thick that I was having trouble getting my whisk through the mixture). I loved the way that these turned out! I ended up with a nice fat cookie that is just the right size with a thick frosting sprinkled with fall inspired sprinkles.
This cookie will remind you of the Lofthouse Cookies you can buy in the bakery section of the grocery store, but they taste so much better!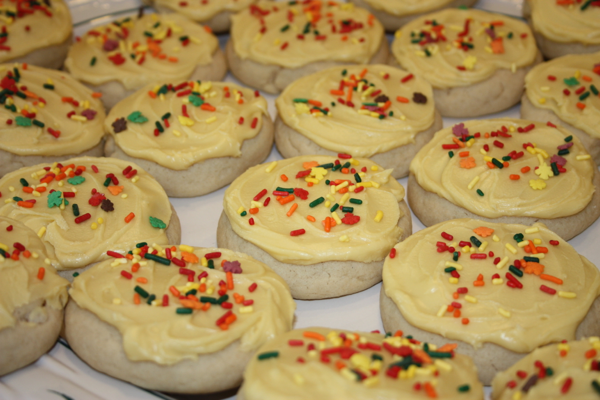 Soft Frosted Sugar Cookies
Printer Friendly Recipe
Ingredients:
For the cookies:
4½ cups all-purpose flour
4½ teaspoons baking powder
¾ teaspoon salt
1½ cups (3 sticks) butter, at room temperature
1½ cups sugar
3 large eggs
5 teaspoons vanilla extract
For the frosting:
5 cups confectioners' sugar, sifted
1/3 cup (5 1/3 tablespoons.) unsalted butter, melted
1 tbsp. vanilla extract
5-6 tablespoons milk (plus more, as needed)
Food coloring (optional)
Sprinkles (optional)
Directions:
In a medium bowl combine the flour, baking powder and salt, and whisk together to blend. In the bowl of an electric mixer, combine the butter and sugar and beat together on medium-high speed until soft and fluffy, about 2-3 minutes. Beat in the eggs one at a time, mixing well after each addition and scraping down the bowl as needed. Blend in the vanilla. With the mixer on low speed, add in the dry ingredients mixing just until incorporated and evenly mixed. Cover and chill the dough for 1 hour.
Preheat the oven to 350˚ F. Line baking sheets with parchment paper or silicone baking mats.
When you are ready to bake the cookies, scoop a scant quarter cup of dough (I use my Pampered Chef large scoop) and roll into a ball. Flatten the ball slightly and place on the prepared baking sheet. Repeat with the remaining dough, spacing the cookies at least 2-3 inches apart. Bake about 8-10 minutes or just until set. (Do not overbake!) Let cool on the baking sheet for several minutes. Transfer to a wire rack to cool completely.
To frost the cookies, place the confectioners' sugar in a medium bowl. Add the melted butter, vanilla, and milk to the bowl and whisk until smooth. Whisk in additional milk as necessary, 1 teaspoon at a time, until you reach your desired consistency. Tint with food coloring if desired. Use an offset spatula or spoon to frost the cooled cookies. (If the frosting begins to thicken as you decorate, just continue to whisk in small amounts of milk to keep it workable. I prefer to have the frosting thick as apposed to thin.) Top with sprinkles if desired. Store in an airtight container.