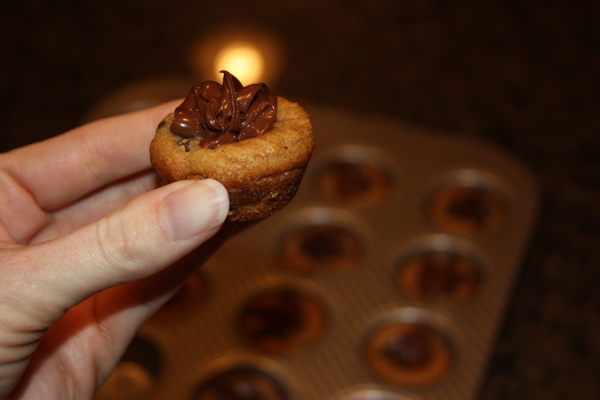 My children have a love affair with Nutella. They love it on toast, in oatmeal, on pancakes, on waffles and in cookies. I think they could just about eat it straight out of the jar if I would let them. The other day while skimming through pinterest I saw these cookies and knew I had to give them a try.
They are super easy because I used store bought gluten free chocolate chip cookie dough, but you could use your favorite cookie dough. They are super easy to make and a a fun addition to any event where a sweet treat is needed. If you or your family are Nutella fans, I am sure they will be a big of a hit at your house as they were at mine. We are already looking forward to the next time we make these little treasures.
GF Chocolate Chip Cookie Bites with Nutella
Ingredients
1 tub of Pillsbury Gluten Free Chocolate Chip Cookie Dough (or recipe of your choice)
1 13oz container of Nutella
Instructions
Preheat oven to 350 degrees.
In a 24 count mini muffin tin spray non stick spray. Roll cookie dough into small balls and place in each tin.
Cooke for 10-11 minutes or until dough turns golden brown.
Remove from oven and using the end of a wooden spoon press an indentation into the cookie dough to form a cup.
Let cool completely or slightly if you can't wait until they are completely cool.
Fill each cookie cup with Nutella using a spoon or a piping bag.