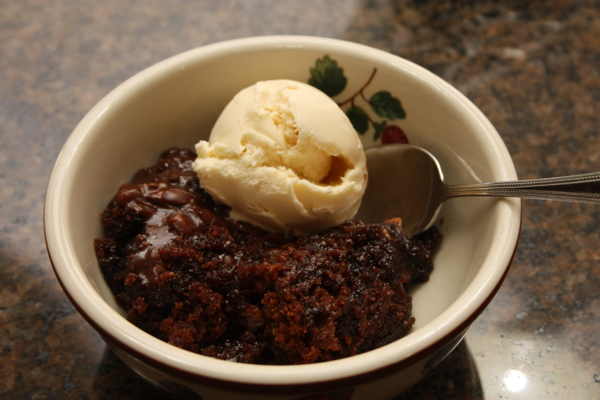 If you have ever tried Texas Sheet Cake and enjoyed it, I know you will love this chocolate skillet cake. It is basically a smaller amount of Texas Sheet Cake baked in a skillet. It was perfect for our family and oh so yummy. Jeffrey even loved it and he doesn't really love Texas Sheet cake. Something about the thickness and gooeyness of baking it in the cast iron skillet. It is pretty incredible.
It would make a nice option for a birthday cake as well. Something a little out of the ordinary but still quite scrumptious.
Chocolate Skillet Cake
Cake Ingredients:
1 cup flour (I used Gluten Free)
1/2 teaspoon baking soda
3/4 cup sugar
dash salt
1/4 cup (1/2 stick) butter
1/4 cup vegetable oil
2 tablespoons cocoa powder
1/2 cup water
1/4 cup buttermilk
1 egg
1/2 teaspoon vanilla
Frosting Ingredients:
1/4 cup (1/2 stick) butter
2 tablespoons cocoa
3-4 tablespoons milk (as needed for consistency)
1/2 cup pecans, chopped
2 cups powdered sugar
1/2 teaspoon vanilla
Make the cake: Preheat the oven to 350 degrees F. In a large bowl, whisk flour, baking soda, sugar, and salt together and set aside.
In a 10-inch cast iron skillet, bring the butter, vegetable oil, cocoa powder, and water to a boil. Remove it from the heat and whisk in the dry ingredients well. Mix in the buttermilk, egg, and vanilla. Bake the skillet cake at 350 degrees F for about 15-20 minutes or until a toothpick comes out with just a few moist crumbs.
Make the frosting: While the cake starts to cool, bring the butter, cocoa, and milk to a boil in a medium saucepan. Remove them from heat and add the icing sugar, nuts, and vanilla. Stir to combine. Pour over the warm cake, spread with a spatula. Top with whipped cream or ice cream. Serve immediately!