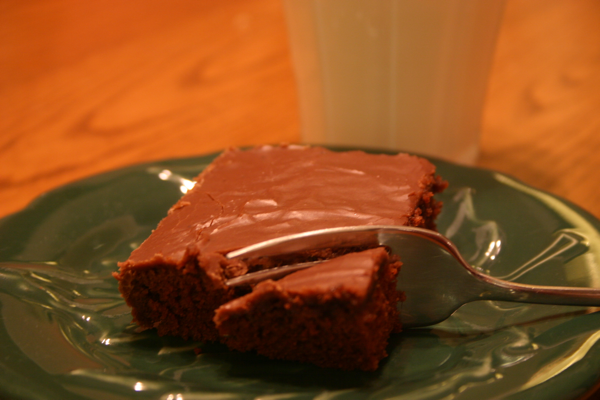 As I am sitting here writing this post, I am stuffed. We had a chili supper/art fair at the boys school tonight. It was such a fun time. I enjoyed sampling lots of different chili recipes. I think it is interesting to see what others like to add to their chili or what it is that people enjoy about a specific recipe.
I want to give the appropriate congratulations to my husband because his chili came in 3rd place. Way to go! I received several congrats or compliments on the chili, but I want to go on record as saying it was my wonderful husband. He started out with my chili recipe and then went from there. (I will add that the handful of chocolate chips in the chili was my idea.) I thought it was a delicious recipe and am only sad that I can't share it with you. (We were not very good about documenting or measuring what was going into the chili.) If I am able to recreate the recipe, I will be sure to let you know.
So now that I have rambled on and on about chili, how about a Texas Cookie Sheet Cake recipe? This is one of those deserts that I don't make very often, but really enjoy when I do make it. My mom would make this recipe in lieu of brownies; however, I am just the opposite. If I want chocolate, I will whip up a batch of brownies. Both of my boys really enjoyed this treat. They especially liked being able to lick the beater after I made the frosting. Don't you love licking the beaters? I loved it as a kid and still love it–though I normally forfeit the opportunity to give my children the treat.
I think this recipe would make a great addition to your Valentine's Day treats. If you want to make it more festive just take a heart shaped cookie cutter and cut out hearts from the cake. It would be super cute and I am sure your valentine's would love them. Just make sure to have a big glass of milk ready. This treat is also great with a scoop of vanilla ice cream.
Texas Cookie Sheet Cake
Ingredients:
cake:
2 cups flour
2 cups sugar
1/8 teaspoon salt
1 stick butter
1/4 cup cocoa powder
1/2 cup oil
1 cup water
2 eggs
1 teaspoon vanilla
1/2 cup buttermilk
1 teaspoon baking soda
frosting:
1 stick butter
1/4 cup cocoa powder
6 tablespoons milk
1 pound powder sugar
1 teaspoon vanilla
nuts if desired
Directions:
Preheat oven to 400 °F.
Spray a sheet pan with non-stick cooking spray.
In a medium sized bowl combine flour, sugar and salt. Put aside.
In a saucepan bring butter, cocoa, oil, and water to a boil. Once it has come to a boil pour over your flour mixture. Add eggs, vanilla, buttermilk, and soda and mix with a hand mixer until well combined. Scraping the edges to insure everything is mixed well. Pour into the greased sheet pan. Bake for 20 minutes.
For the frosting:
Bring butter, cocoa powder, and milk to a boil in a saucepan. When it begins to boil, remove from heat and add powdered sugar, vanilla, and nuts (if using). Mix with a hand mixer until it comes together. Pour over warm cake and spread quickly to the edges before the frosting sets.