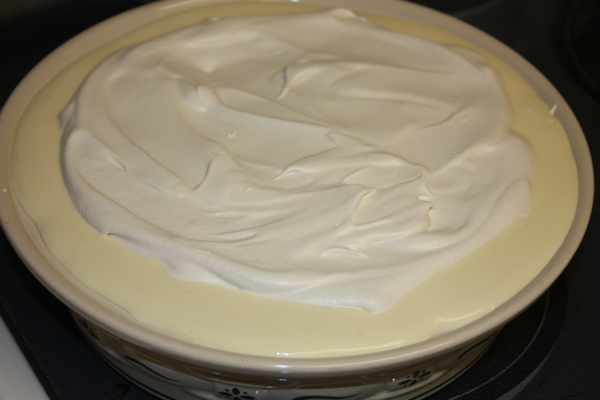 I was so excited to share this recipe with you after sharing my gluten free 'nilla wafer recipe and then after double checking…I have already shared this recipe. I must be losing my mind, but I decided to share it again because I liked the picture of all of my items on the counter as I was getting ready to assemble to pudding and I substituted plain greek yogurt for the sour cream. I also decided I could share it again because this is comfort food to me and it always reminds me of my mom. Memories of mom are always good and I think she would be proud of me for figuring out a way so Tyler can enjoy her pudding. So here it is again. I will, however, now have to make another batch of 'nilla wafers so I can share mom's warm banana pudding recipe with you. I know it will be phenomenal with the homemade 'nilla wafers.
Banana Pudding
1 package instant vanilla pudding (Jello brand is gluten-free)
1 cup sour cream or greek yogurt (I used greek yogurt this time and didn't notice a difference in taste.)
1 package cool whip (save 1/2 for top)
1 teaspoon vanilla
1 batch homemade gluten free'nilla wafers
about 5 bananas
Mix pudding mix with milk as directed on package adding vanilla. Add sour cream and cool whip (saving half of the cool whip for the topping). Whisk until everything is combined. To assemble alternate layers of 'nilla wafers, bananas, pudding mixture in a large round or 9 by 13 baking dish. Repeat. Top with reserved cool whip.