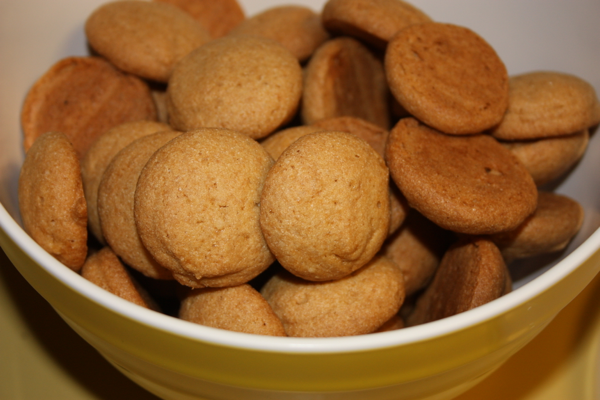 I have had a hankering for banana pudding the past couple of weeks, but finding gluten free 'nilla wafers is impossible. I have played around with the idea of using some sort of sugar cookie as a substitute though when push came to shove I decided to go for it and make my own 'nilla wafers. I am so glad that I did. The cookie itself is fairly easy to put together and the final result is amazing. The cookie is crisp without being hard.  These cookies also held their texture in the banana pudding than store bought cookies which tend to become soft and soggy in the pudding. I think it was unanimous at our house that these are way better than the store bought variety not to mention the fact that they are gluten free. They are definitely a win-win cookie in our book!
While they do add another step to making banana pudding, it was definitely worth the effort. If I plan my time better, it would be fun to have these on hand for last minute desserts. I bet the baked cookies would freeze well and offer more options for quick desserts. That is if I can get them to the freezer before they are consumed by the cookie monsters at my house. 🙂
Come back on Thursday for the Banana Pudding recipe!
Gluten Free 'Nilla Wafers
Ingredients:
1 1/3 cup all-purpose gluten-free flour
1/2 teaspoon xanthan gum (omit if your flour blend already contains it)
1/2 teaspoon baking powder
1/8 teaspoon baking soda
1/2 teaspoon kosher salt
8 tablespoons unsalted butter, at room temperature
1/2 cup packed light brown sugar
1 egg, at room temperature
4 teaspoons vanilla extract
2 tablespoons milk
Directions:
Preheat oven to 325 degrees. Line rimmed two rimmed baking sheets with parchment paper and set aside.
In the bowl of a stand mixer fitted with the whisk attachment, add the flour, xanthan gum, baking powder, baking soda, and salt; whisk to combine. Change to the paddle attachment and add butter, sugar, egg, vanilla and milk. Beating well to combine. The batter will be the consistency of frosting. (Thick but thin enough to pipe through a pastry bag.)
Pipe about a tablespoon of batter through a pastry bag fitted with a plain piping tip onto the prepared baking sheets. Space the dough about 1 inch apart. After you have piped all the dough, using wet finger tips smooth out the tops of the dough mounds to make smooth tops. Chill for about 5 minutes in the freezer to let the dough firm up a bit.
Bake for 15-25 minutes rotating the pans during baking until the cookies are nice and uniform brown in color. Allow to cook on baking sheets. Remove to an airtight container to store after the cookies have cooled.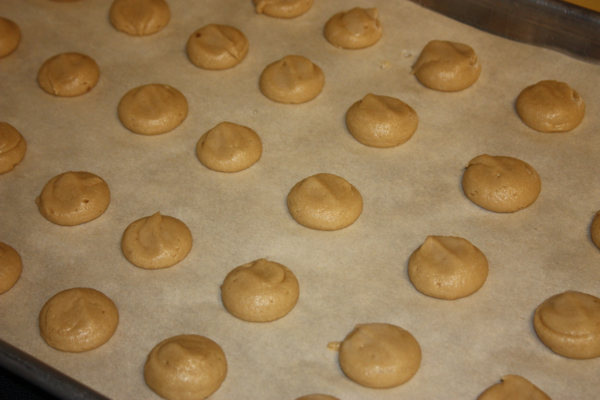 Adapted from Gluten Free on a Shoestring