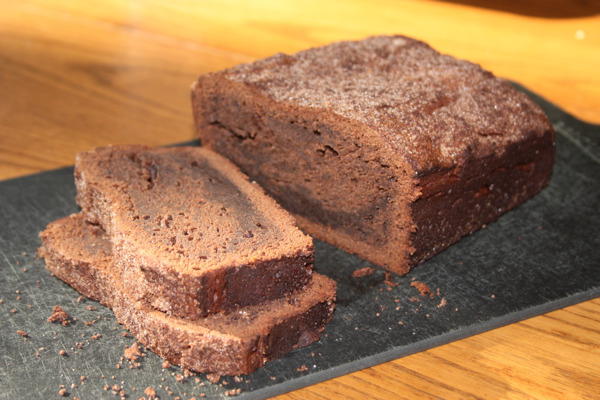 The other day Jeffrey was having a not so fun day at work, so on the way to a meeting in the area, I decided to stop at Starbucks and pick him up a treat. Instead of going through the drive-through, I ran inside hoping it would be faster. There were only a couple of people ahead of me so as I was waiting I was glancing at the pastry case. I decided it would be an even better treat if I got Jeffrey a piece of their cinnamon chocolate bread to go with his mocha. (If you are having a rough day, chocolate can only make it better. Right?) So with mocha and bread in hand I gave Jeffrey a call and ask him to meet me at the door to his building because I had a treat, but needed to get to another meeting quickly.
He later mentioned how sweet the gesture was and mentioned that the bread was especially good. (I was a little disappointed that I didn't get one for me self.) Instead of being too disappointed, I decided to search the Internet. If there was a recipe out there I knew I could find it. I was lucky and found multiple recipes and even found one that was gluten free. Fortunately, I had all the ingredients. I figured this was a sign that I should make the bread for our weekend treat.
I thought it was delicious and both William and Tyler devoured their pieces right after school. Jeffrey also enjoyed it and is looking forward to the end piece as I write. I asked how it compared and he said my version was excellent and the only difference he noticed was the size of the bread compared to Starbucks. Regardless of whether or not it is similar it is quite tasty in my opinion and I will be making it again in the future. It will definitely tide me over until zucchini is in season and I can make double chocolate zucchini bread.
Cinnamon-Chocolate Bread
Ingredients:
2 ounces semi-sweet chocolate, chopped
1/4 cup milk
1 cup (140 g) high quality all purpose gluten free flour*
1 teaspoon xanthan gum (omit if your blend already contains it)
1 teaspoon kosher salt
3/4 cup (60 g) Dutch-processed cocoa powder, plus more for sprinkling
1 1/2 teaspoons ground cinnamon, plus more for sprinkling
16 tablespoons (224 grams) unsalted butter, at room temperature
1 1/4 cups (250 g) granulated sugar, plus more for sprinkling
4 eggs (240 g, out of shell), at room temperature
2 teaspoons pure vanilla extract
*My gluten free flour mix is three parts brown rice flour, three parts sweet rice flour,two parts potato starch, and one part tapioca flour.
Directions:
Preheat your oven to 325°F. Grease an 8 1/2 inch x 4 1/2 inch loaf pan, sprinkle evenly but lightly with cocoa powder, sugar and ground cinnamon and set the pan aside.
In a small saucepan, place the chopped chocolate and milk over medium heat, stirring occasionally, until the chocolate is melted and the mixture is smooth. Set the mixture aside to cool briefly. In a medium-sized bowl, place the flour, xanthan gum, salt, cocoa powder and cinnamon, whisk to combine well and set the bowl aside.
In the bowl of a stand mixer fitted with the paddle attachment beat the butter and sugar until the mixture is well mixed and light in color (about 3 minutes). Add the eggs, one at a time, and the vanilla, and beat again until well-combined. Next, add the chocolate and milk mixture, and beat again until combined. Finally, with the mixer on low, add the flour and cocoa powder mixture slowly. Beat briefly until well combined. The mixture should be smooth and thick but still pourable.
Pour the mixture into the prepared pan, and smooth the top with a wet spatula. Sprinkle the top liberally with sugar, cinnamon and cocoa powder. Place in the center of the preheated oven and bake until a toothpick inserted in the center comes out with no more than a few moist crumbs attached (about 1 hour).