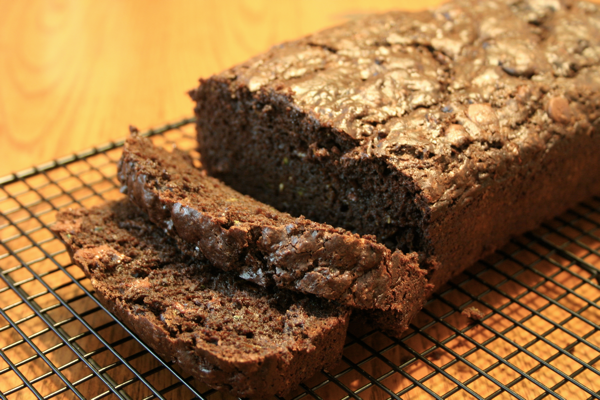 I can't believe I waited almost a year before I tried this recipe. I found the recipe last August but never got around to making it because the zucchini in my garden was demolished by aphids. I knew last week when my box of goodies from my CSA contained zucchini that making this bread was on my immediate to-do list. Boy was I ever glad that I did. It is heavenly!
I am not kidding that I fell head over heels in love with this bread. YUMMY! We quickly went through half of the loaf by lunchtime. I knew that I needed to take advantage of the remaining zucchini in the fridge so I proceeded to make two more loaves. You almost feel like you are eating a slice of chocolate cake while you enjoy this bread, but then you realize it contains both whole wheat flour and zucchini so you don't feel guilty for having the second piece. 🙂
I hope you try this recipe as zucchini is coming into season because it is a nice treat and will help you use up the plethora of zucchini that can appear out of nowhere over night.
Double Chocolate Zucchini Bread
Printer Friendly Recipe
Ingredients:
1/2 c. cake flour
1/2 c. whole-wheat flour
1/2 c. unsweetened cocoa powder
1 tsp. baking soda
1/4 tsp. baking powder
1/4 tsp. salt
1/2 tsp. ground cinnamon
1/2 c. canola oil
1 cup turbinado sugar (Sugar in the Raw)
2 large eggs
1 tsp. vanilla extract
1 1/2 c. shredded, raw zucchini
3/4 c. semi-sweet chocolate chips
Directions:
Preheat oven to 350 degrees and place rack in the center of the oven. Grease, or spray with nonstick vegetable spray, a 9x5x3″ loaf pan. Set aside.
Grate the zucchini using a medium sized grater or food processor. Set aside.
In a large bowl, whisk together the flour, cocoa powder, baking soda, baking powder, salt, and cinnamon. Set aside.
In the bowl of your electric mixer (or with a hand mixer), beat the oil, sugar, eggs, and vanilla extract until well blended – about 2 minutes. Fold in the grated zucchini. Add the flour mixture, beating just until combined. Then fold in the chocolate chips.
Scrape the batter into the prepared pan and bake until the bread has risen and a toothpick inserted in the center comes out clean, about 55-65 minutes. Place on a wire rack to cool for 10 minutes, then remove the bread from the pan and cool completely.