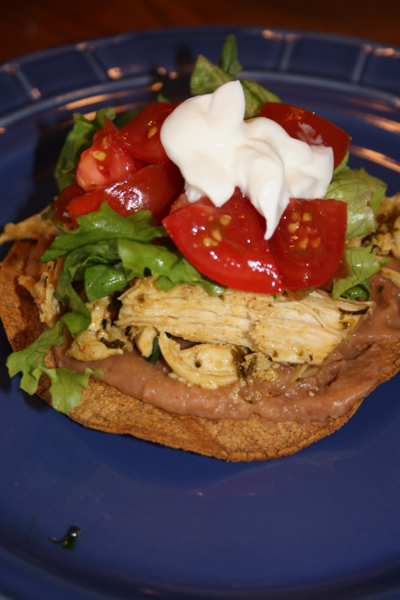 It seems like every time I turn around someone is telling me how much they love my chicken soft tacos. Many people tell me they have them in a regular rotation almost every week. I will confess that I almost never make them. I loved them when I made them, but I am always trying new recipes or I just don't think about them when I am planning dinner. I finally decided to change that. I had heard one too many times in the last couple of days about the tacos and I knew they were on my menu for the week.
I did, however, decide to mix things up a bit and used the chicken to top tostadas instead of soft tacos. I also thought I would try a "healthier" version of a tostadas and bake the tortillas instead of frying them. (Honestly, I didn't want my kitchen or house to smell like fried food.) It was a perfect way to make the tostadas. The tortillas were super crispy and Jeffrey even commented that they were excellent as leftovers for lunch (much better than the fried variety) because they held up and were still crunchy.
Baking the tortillas also freed me up to focus most of my attention on the chicken and prepping our toppings. (You do however need to set a timer or your tortillas will burn.)
Chicken Tostadas with Baked Tostada Shells
ingredients:
One batch of chicken filling
12 thin corn tortillas
cooking spray
warmed refried beans
shredded lettuce
shredded cheese
sour cream or plain Greek yogurt
chopped tomatoes
directions:
Prepare the chicken according to the recipe. While the chicken is cooking place the twelve corn tortillas on two large sheet pans. (It works well to have 6 on each pan.) Spray them lightly with cooking spray and then flip them over and spray the other side with the cooking spray. Place in a 375 degree oven for about 5 minutes. Flip the tortillas after 5 minutes and cook an additional 5 minutes or until crispy. *Make sure you watch. This may take more or less time depending on how your oven cooks. Once they are crisp remove from the oven.
To assemble to tostadas. Spread a thin layer of refried beans on the tostada shell. Top the beans with the chicken mixture and then toppings of your choice. Enjoy!