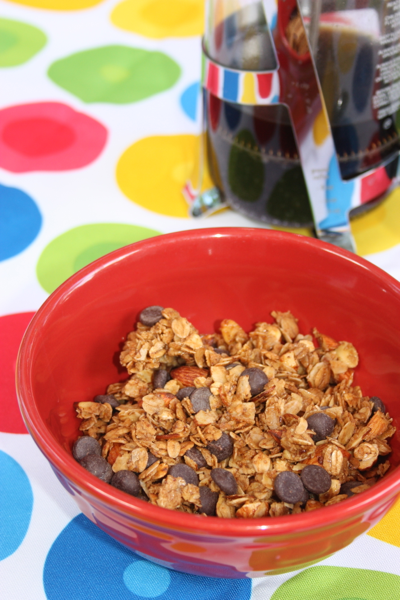 I saw the idea for this granola on one of the blogs that I read regularly and knew I couldn't wait to try it. I tweaked the original recipe to suit my own tastes by using my favorite granola recipe as the base and then just adding the espresso to it. It turned out fabulous!
I knew this would be well received by Jeffrey because these happen to be some of his favorite flavor combinations. At the same time, I had no idea how much I would love it. I enjoy granola and didn't think I could ever love another granola as much as my Coconut Almond Granola, but this one is right up there.
I have enjoyed it so much that I have reached for a bowl of granola in the evenings as my "treat". If you are a coffee lover like me, you owe it to yourself to make this granola. It is yummy, satisfying and a little indulgent. I don't think you can go wrong. Jeffrey has been enjoying his with unsweetened Greek yogurt. I am even envisioning this granola in goodie bags for the holidays. Can you tell how much I love it?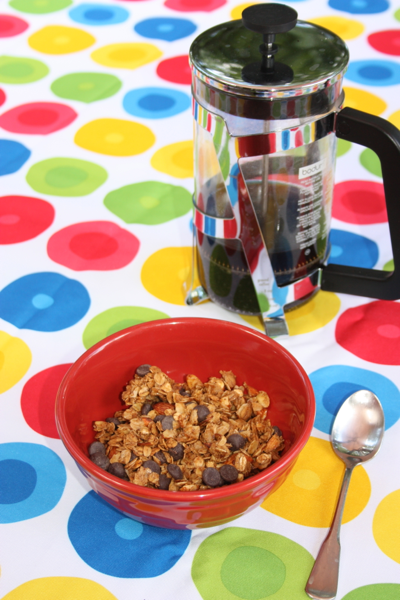 Mocha Almond Granola
Printer Friendly Recipe
Ingredients:
6 cups old-fashioned oats
1 cup slice almonds
1 cup whole almonds, coarsely chopped
1 teaspoon ground cinnamon
1/2 teaspoon salt
3 tablespoons butter
1/4 cup canola or vegetable oil
1/2 cup honey
1/2 cup brown sugar
3 tablespoons espresso powder
1 teaspoon vanilla extract
1 cup bittersweet chocolate chips, or coarsely chopped chocolate(I used Callebaut.)
Directions:
Preheat the oven to 325 degrees.
Combine the oats, almonds, cinnamon, and salt together in a large bowl. Stir until the cinnamon and salt are well disbursed. Set aside.
In a medium saucepan, combine butter, oil, honey and brown sugar together and cook over medium heat until the sugar has dissolved and the mixture begins to boil. Whisk together until it is well incorporated. Add the espresso powder and vanilla and whisk until well combined.
Pour the warm mixture over the oat mixture and toss together with a wooden spoon, ensuring that all of the oat mixture is moistened by the liquids.
Spread the mixture onto a large sheet pan. Bake for 25-30 minutes, stirring twice during baking to ensure even browning. Remove from the oven, let cool completely. Once the mixture has cooled completely add the chocolate, stirring to make sure it is evenly dispersed. Store in an airtight container.
Adapted and inspired by Annie's Eats