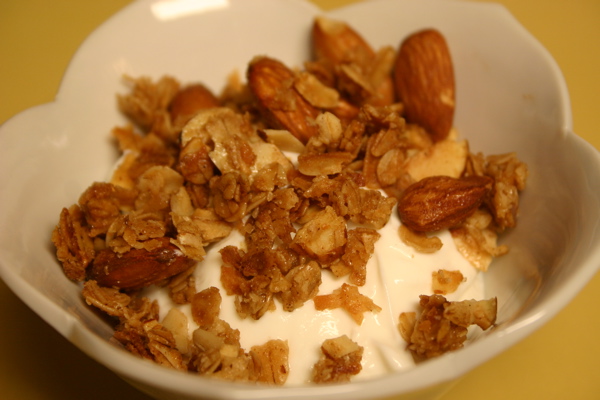 Apparently I am on some sort of breakfast kick or at least that seems to be the theme of my posts this week.  I saw a recipe for this granola over the weekend, and knew I had to try it. We were out of our normal granola and I had just bought a large container of plain greek yogurt so I knew granola was in my future. This recipe was incredible and ultra easy.
Not only does it come together easily–I even had everything on hand.  I always keep a variety of nuts in my freezer (no, Jeffrey doesn't stay in the freezer) as well as shredded coconut.  (Nuts and shredded coconut last forever in your freezer it seems.)  I had the granola cooking in the oven yesterday while I was finishing up dinner and it smelled heavenly.  As it came out of the oven, I sampled a bite and was head over hills in love with this new granola.  I was more excited to have granola and yogurt for dessert last night then my yummy pot of white bean soup that had been simmering all day if that tells you anything about how irresistible the granola was.  Needless to say, I had no problem deciding on my breakfast this morning.  Coffee, greek yogurt and granola.  What a way to start my day!
I could go on and on about how delicious we found the granola, but I think you owe it to yourself to make a batch and test it out yourself.  William even enjoyed it this morning and had it with plain greek yogurt. (I normally have to sweeten his yogurt a bit but not when it was topped with this granola.) The coconut adds the perfect sweetness. I think I will fix another bowl right now. It's that irresistible!
Coconut Almond Granola
Ingredients:
4 cups old fashioned oats
1 cup sliced almonds
1 cup whole almonds
1/2 cup sweetened shredded coconut
1 teaspoon ground cinnamon
1/2 teaspoon salt
3 tablespoons butter
1/4 cup vegetable oil
1/4 cup honey
1/2 cup brown sugar
1 teaspoon vanilla extract
Directions
Preheat to 325° F.
In a large bowl, combine oats, whole almonds, sliced almonds, sweetened coconut cinnamon and salt. Set aside.
In a medium saucepan, combine butter, oil, honey and brown sugar together and cook over medium heat until the sugar is dissolved and the mixture begins to boil. Carefully whisk together so it's well incorporated. Add the vanilla extract. Pour the warm mixture over the oat mixture and toss together with a wooden spoon, ensuring that all of the oat mixture is moistened by the liquids.
Spread mixture onto a large stoneware bar pan (my preferred method) or large rimmed cookie sheet (lined with either parchment paper or a silpat liner to keep granola from sticking) and bake for about 25 to 30 minutes, stir twice during baking to ensure even browning. Remove from the oven, let cool and store in an airtight container for up to two weeks.
Serve with yogurt or milk. It would also make an excellent topping for ice cream.