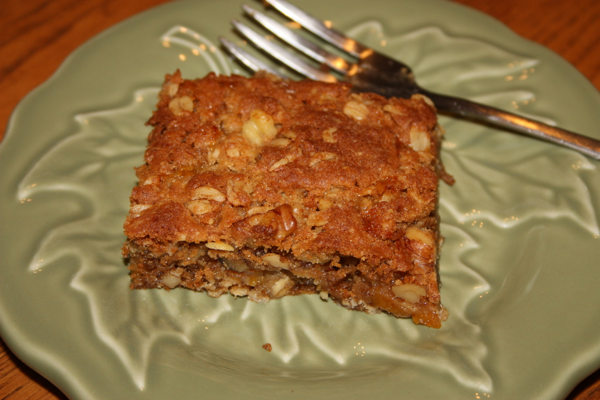 I have been easing my way back into the kitchen over the last couple of days and it has been a blast. We have had some delicious food and it is fun to get baking and cooking again. I have been cooking more savory items, but knew I needed to give something sweet a try. I pulled one of my favorite cookbooks and knew I would find some inspiration.
It didn't take long until I came across this recipe for Apricot Oatmeal Bars. I thought they would be perfect. I could have a yummy dessert and a fun breakfast treat while  only baking one treat. These quickly became one of Jeffrey's favorites. They are quite tasty and the apricot is a nice change of pace from our normal flavors. They are delicious as either a treat to end the day or a nice sweet addition to my cup of coffee in the morning.
Apricot Oatmeal Bars
Ingredients:
cooking spray
1 (13-ounce) jar apricot jam or preserves (about 1 1/4 cups)
8 dried apricots, chopped into 1/4-inch pieces (about 1/3 cup)
1 3/4 cups all-purpose flour or Pamela's Baking Mix for Gluten Free
1 packed cup light brown sugar
1 teaspoon ground cinnamon
3/4 teaspoon fine sea salt
3/4 teaspoon baking soda
1 3/4 cups old-fashioned oats (Gluten Free)
1 cup (4 ounces) coarsely chopped walnuts
1 cup (2 sticks) unsalted butter, melted
1 egg, at room temperature, beaten
1 teaspoon pure vanilla extract
Directions:
Put an oven rack in the center of the oven. Preheat the oven to 350 degrees. Spray a 9 by 13 baking dish with cooking spray and set aside.
In a small bowl, mix together the jam and the apricots. Set aside.
In a large bowl, whisk together the flour (Pamela's), sugar, cinnamon, salt and baking soda. Stir in the oats and walnuts. Add the butter, egg and vanilla and stir until incorporated.
Lightly press half of the crust mixture onto the bottom of the prepared pan. Using a spatula, spread the filling over the crust leaving a 1/2-inch border around the edge of the pan. Cover the filling with the remaining crust mixture and gently press to flatten. Bake until light golden, about 30 to 35 minutes. Cool for 1 hour. Cut into bars and store in an airtight container for up to 3 days.
Adapted from Giada DeLaurentis