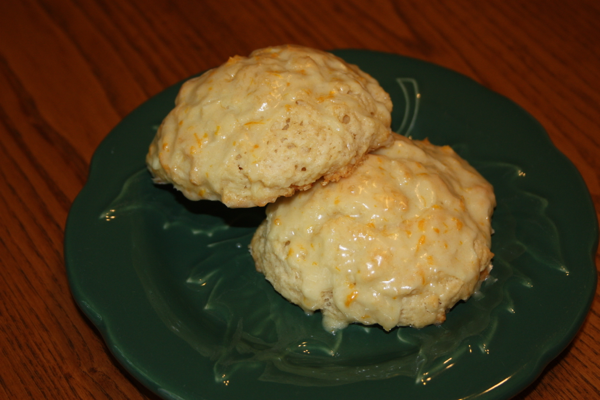 Several months ago, I had a request to try and recreate Panera Bread's Strawberries and Cream and Orange Scones. I have already posted one for the strawberries and cream but have still been working on the orange one.
After my first attempt, I sent the recipe to my reader and wanted her feedback. (I had yet to try the scone from Panera so I was going in blind.) She politely responded that it was good but not like the scone from Panera so I went back to the drawing board. I also visited Panera and bought myself on of their orange scones, only for research of course. 😉  Several weeks went by after my research and I finally got back in the kitchen to try another attempt at the scone. In all honestly, I can't remember exactly what the Panera version tasted like but I thought these were pretty tasty and better than my first attempt.
They flew off the pan at our house and Jeffrey proclaimed them his all time favorite scone. As I mentioned earlier, I don't know if they are similar to the Panera scone, but they were a complete hit at our house, not to mention fairly easy to throw together for a breakfast treat. I think these would make an excellent treat for Mother's Day and I am sure with some supervision even the kiddos can throw these together.
Orange Scones
Ingredients:
1 1/2 cups plus 2 tablespoons flour
1/4 cup sugar
2 teaspoons baking powder
pinch of salt
3/4 cup heavy cream
1/4 cup orange juice
2 tablespoons melted butter
sugar in the raw for sprinkling
glaze
3/4 cup powdered sugar
zest of one orange
remaining butter from brushing scones
1 tablespoon orange juice
Directions:
Preheat oven to 375. Line baking sheet with silpat or parchment.
Combine flour, sugar, baking powder, and salt. Add cream and oj stirring with a rubber spatula. (This dough is softer and stickier so I just used a large scoop and scooped 9 scones onto my pan.) Brush with butter and sprinkle with sugar in the raw. Bake 15-20 min. I let mine get a little bit of color before pulling them.
Whisk together the powdered sugar, orange zest, butter, and oj until smooth.
I glazed mine while they were still hot but you probably should wait a few minutes so the glaze doesn't melt so much.