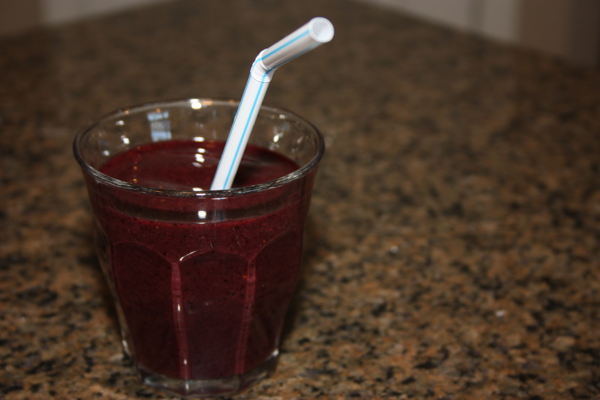 I mentioned in my Year in Review post that I was taking the 100 Days of Real Food Mini Challenges. The first challenge has been to eat 2 fruits or vegetables with every meal. I won't say that I have been great at accomplishing this goal at every meal, but overall I am consuming more fruits and veggies.
I have found that this smoothie is a great way to start my day and I have the added benefit of getting both fruit and veggies. Everyone in the house loves this smoothie and thinks it is a great way to start the day. Who can complain when the flavor is incredible and you are getting spinach with your breakfast? If you are looking for ways to add some additional fruits and veggies to your diet, you can't go wrong with this smoothie. Give it a try!
Pomegranate Blueberry Smoothie
ingredients:
2 cups Pomegranate juice
2 cups frozen blueberries (if using fresh just add some ice)
1 banana
2 cups fresh spinach
directions:
Combine all ingredients and blend until smooth. Serve immediately and enjoy!
This recipe serves four adapt as needed.