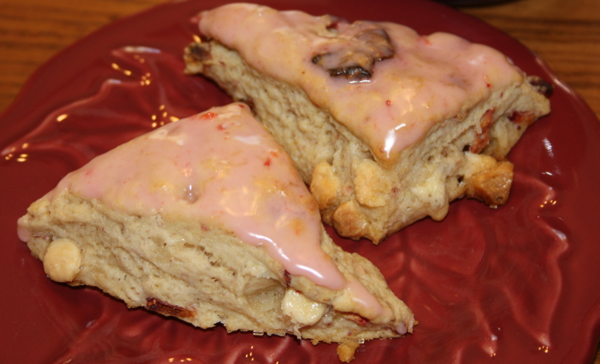 I was recently asked by one of you (my readers) to try to recreate a scone similar to the strawberry and cream scone found at Panera Bread. I agreed to the challenge, but have yet to go purchase a scone from Panera. I have however, tried several attempts at making my own version of a strawberry and cream scone. I have learned quite a bit from my first attempt. Regardless of whether or not this scone is similar to the one found at Panera I am quite pleased with my creation. I still have every intention of stopping in someday soon and buying one of theirs to see how they compare. Who knows? Maybe I will need to make even another scone with strawberries though for now I am quite pleased with this one.
I have learned a lot from my first scone recipe I tried. I am learning more about how I prefer my scones and am having lots of fun trying different flavors. My favorite recipe to use as my base is still my chocolate chip scone recipe. It is so easy and come together in a matter of minutes. I am finding these a nice alternative to muffins. Now that I have a great base I just change the flavors by changing what I mix in to the scone…chocolate chip, blueberry-lemon, cinnamon, and now strawberries and cream. (I also bought some freeze dried raspberries that will be fun to experiment with as well.)
Strawberry and Cream Scones
Ingredients:
1 1/2 cups plus 2 tablespoons all-purpose flour
1/4 cup sugar
2 teaspoons baking powder
Pinch of salt
1 cup freeze dried strawberries, coarsely broken
1/2 cup coarsely chopped white chocolate chips
1 cup heavy cream
1-2 tablespoons butter, melted
Additional sugar for sprinkling (optional) (I used sugar in the raw.)
Glaze:
2 teaspoons strawberry jam
1/2 cup powdered sugar
2 teaspoons milk (may need more but add gradually until you get the consistency you want)
Directions:
Preheat the oven to 375˚ F. Line a baking sheet with parchment paper or a silicone baking mat. Combine the flour, sugar, baking powder and salt in a medium bowl; stir to combine. Toss in the freeze dried strawberry pieces and white chocolate chips and stir to blend. Add the heavy cream to the flour mixture, stirring just until a dough forms and the dry ingredients are incorporated. Knead the dough very briefly with well floured hands to ensure even mixing.
Shape the dough into approximately an 8 X 4 inch rectangle on a surface sprinkled with flour. Cut the rectangle into 8 equal pieces. (I cut my dough in half and then each half in half then down the center lenghtwise so that I have 2 rows of 4.) Once I have 8 pieces I then cut them diagonally. Separate the pieces and space them out on the baking sheet. Brush the melted butter on top, and sprinkle with sugar. Bake for 15-20 minutes. Let them rest on the baking sheet for about 5 minutes while you prepare the glaze.
For the glaze combine the strawberry jam, milk, and powdered sugar whisking together until well combined. Add additional milk as necessary.
Gently dip the top of each scone in the glaze. Let set for a few minutes and enjoy.