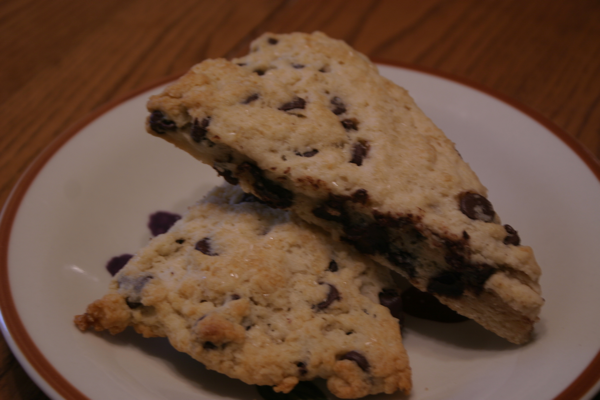 I had intentions of having a week of mexican inspired dishes preparing you for Cinco de Mayo, but could not wait another minute to share this recipe with you. I know, I know–you just made scones for the Royal Wedding.  Still, put this recipe on your to do list this week. I am not kidding. If you like chocolate you owe it to yourself. YUMMY! This would also make a great treat for mom on Mother's Day. I think my kiddos could make them with a little supervision. 🙂
I decided to make these Sunday morning for my family as a thank you for all of the hard work on Saturday helping me weed, plant the garden, planting my flower pots, and cleaning up the outside furniture. I was a horrible mother and the boys were required to help us outside instead of spending the day inside playing Wii. Overall, it was a good day and we got a lot accomplished and will be happy reaping the fruits of our labor in a couple of months. I still thought we need a special breakfast on Sunday as a little way to say "thank you." This recipe seemed perfect. One, it had chocolate in it. Two, it was very easy to put together and only takes about 20 minutes to cook. Three, I had everything on hand to make it. Score!
This scone recipe was fun to make and it comes together very quickly without dirtying a bunch of bowls. You will love it. Jeffrey thought it would be fun to experiment with things other than chocolate chips since he enjoyed the scone part so well. Definitely a keeper in the Sykes household. I baked my scones in a disk so the inside was a little bit softer than the edge. It was still delicious but Jeffrey and I both agreed that the crisper edge was really delicious. I think next time I will separate my wedges before baking to insure more crisper edges for us to enjoy.
I would love to hear what you think of this recipe. I think this one has a more traditional scone texture than the vanilla scones I posted the other day. Both are delicious in my opinion.
Chocolate Chip Scones
Printer Friendly Recipe
Ingredients:
1½ cups plus 2 tbsp. all-purpose flour
¼ cup sugar
2 tsp. baking powder
Pinch of salt
1 cup chocolate chips
1 cup heavy cream
2 tbsp. butter, melted
Additional sugar for sprinkling (optional) (I used sugar in the raw.)
Directions:
Preheat the oven to 375˚ F. Line a baking sheet with parchment paper or a silicone baking mat. Combine the flour, sugar, baking powder and salt in a medium bowl; stir to combine. Toss in the chocolate chips and stir to blend. Add the heavy cream to the flour mixture, stirring just until a dough forms and the dry ingredients are incorporated. Knead the dough very briefly with well floured hands to ensure even mixing.
Shape the dough into a disk shape on your prepared baking sheet. (Mine was approximately 7-8 inches in diameter.) Now cut the disk into 8 wedges. You can either bake it in the disk form or separate the wedges to have crisper edges. (I baked mine in the disk this time but really enjoyed the crispness of the edges so next time I will probably separate the wedges and space them out on the baking sheet.)
Brush lightly with the butter and sprinkle with additional sugar.
Bake for 15-20 minutes or until lightly golden brown. Enjoy!
*If you prefer not to shape your scones you can also just scoop them out using a large scoop, dropping rounds of dough onto the prepared baking sheets.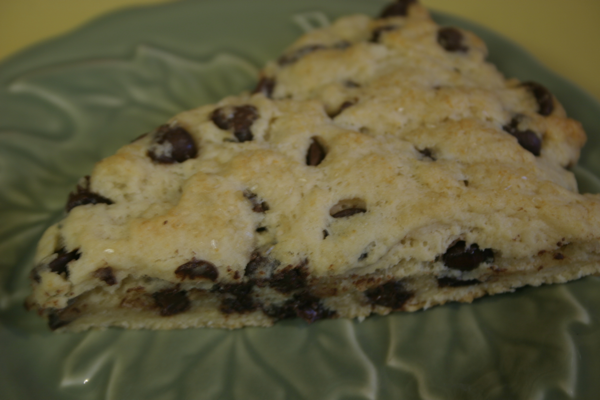 .