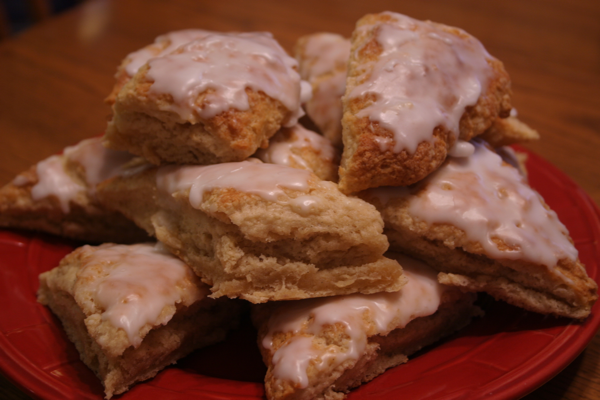 One of William's favorite treats when we visit Starbucks is vanilla scones. I also loved their scones until I started making my own. The difference is night and day. I really enjoy the fresh variety much more than the store bought kind. The other day I had a request for some ideas of treats that could be made in honor of "The Royal Wedding" next week. I think these would be perfect to enjoy while watching the wedding, but think they would also be an excellent addition to your Easter brunch.
Regardless of the event you make these for, I know you will enjoy the light and tender texture of homemade scones. These scones are sweet, buttery and have just the right amount of vanilla flavor. So pour yourself a cup of tea or nice hot cup of coffee; sit down and enjoy these yummy scones. I promise it is worth the extra effort to make your own. While in a pinch we may still buy some at Starbucks, overall we enjoy ours so much better!
Vanilla Scones
Printer Friendly Version
Ingredients:
2 cups flour
2 teaspoons baking powder
1/2 teaspoon baking soda
1/2 teaspoon salt
1/2 cup sugar
5 tablespoons unsalted butter
1 cup sour cream (I substituted greek yogurt.)
1 egg yolk
2 teaspoons vanilla extract
1 vanilla bean, split in half and inside scraped (optional) (You use the inside part.)
1 1/2 cup powdered sugar
water, as needed for glaze
Directions:
Preheat oven to 400 degrees.
Whisk together the dry ingredients in a medium sized bowl. Cut the butter into small pieces and then cut them into the dry ingredients until the mixture looks like coarse meal. (My preferred method of cutting the butter is to grate it on a box grater then toss the butter into the flour mixture using my fingers to bring the mixture together.)
In a separate bowl, whisk together the sour cream, egg yolk, vanilla, and vanilla bean insides (if using). Add the liquid mixture to the flour mixture and stir with a fork until the dough forms a ball. (I ended up using a spatula and my hands to get the mixture to come together.)
Place the dough onto a baking sheet lined with either a silicone baking mat or parchment paper. Pat the dough into a disk about 1-inch in height. Cut the dough into wedges but do not separate. (I made 8 wedges and then cut each wedge in half.) You could also drop by spoonfuls to make smaller scones.
Bake for 15 minutes or until golden brown on top. While the scones are baking prepare the glaze. Put the powdered sugar in a small bowl and add water one teaspoon at a time, mixing vigorously until smooth and runny.
Use a pastry brush to apply a thin layer of glaze over the hot scones. Serve immediately! Store cooled scones in an airtight container.
Adapted from Recipezaar.