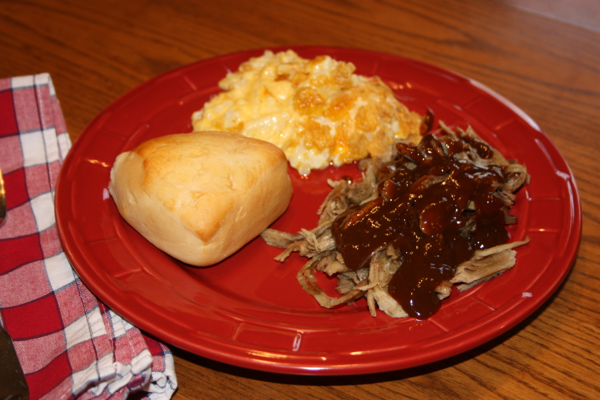 My Dad makes the best barbecue sauce in the world. Unfortunately, he doesn't follow a recipe and trying to recreate his sauce is nearly impossible. When he comes to visit he normally makes me a big batch of sauce, but it doesn't always last until the next visit. So I am on my own. I love barbecue sauce with pulled pork or grilled chicken, but after Dad's sauce runs out I am always searching for something to hold me over. I have yet to find a bottled sauce that will live up to my expectations. I found this recipe and decided to give it a try. It was pretty good though not quite up to my Daddy's. Nonetheless, I thought I would share it with you because homemade is so much better than store bought.
I first served this on my barbecue chicken burgers and thought it was delicious. I thought that it was good on my pulled pork as well.  At the same time, it didn't quite have the kick I am used to in my Dad's sauce. That being said, I do think it will be a good starting place for future barbecue endeavors. I think next time I will try adding some chili powder or cayenne to add a little more heat.  Anyone care to share their favorite sauce that doesn't come from the store?
Barbecue Sauce
Ingredients:
1/2 cup ketchup
1/4 cup molasses
2 tablespoons finely chopped onion
2 tablespoons Worcestershire sauce
2 tablespoons Dijon mustard
2 tablespoons cider vinegar
1 tablespoon brown sugar
Hot sauce, to taste
Directions:
Combine all the ingredients in a saucepan over medium heat. Cook, stirring occasionally, until the sauce thickens and is reduced to about 1 cup, about 7 minutes. Remove from the heat. Chill until ready to use.
Adapted from Cook's Country.