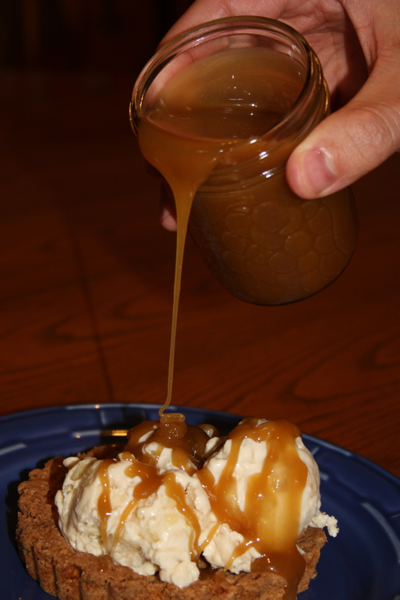 Since Labor Day has come and gone, I am beginning to think of Fall. While the weather isn't cooperating with me yet, I am already beginning to have visions of caramel apples, pumpkin inspired desserts and goodies, sweatshirts and boots. Let the crisp cool air come quickly.
We had some friends over on Sunday evening and I decided to fix a fall inspired dessert. I will be sharing the dessert on Friday, but this caramel sauce is one of the key players in the dessert. I have tried many caramel sauces over the years, but this one has to be the easiest I have tried. It came together quickly, I didn't have to worry about it seizing up as I was making it and it is delicious. It is so delicious that I am having visions of a caramel mocha in my future.
Make sure to come back on Friday to see how I used this sauce in my fall inspired dessert that is perfect for these last hot days of summer.
Caramel Sauce
Printer Friendly Recipe
Ingredients:
1 cup firmly packed light brown sugar
1/2 cup butter
1/4 cup whipping cream
1/4 cup honey
Directions:
Bring brown sugar, butter, cream, and honey to a boil in a medium saucepan over medium-high heat, stirring constantly; boil, stirring constantly, 2 minutes. Remove from heat, and cool 15 minutes before serving. Store in an airtight container in refrigerator. To reheat, microwave at HIGH 10 to 15 seconds or just until warm; stir until smooth.