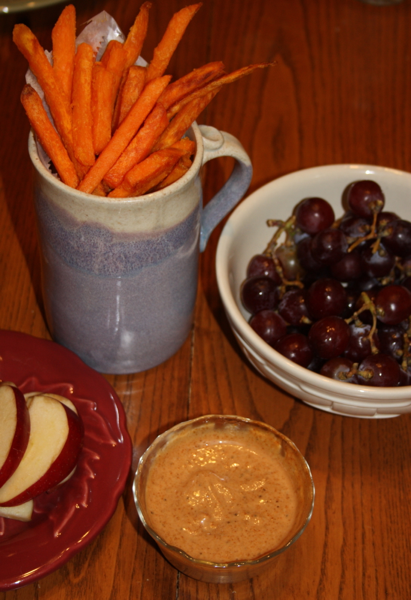 I love sweet potatoes. I remember when I was growing up one of my favorite places to eat was a chop house because they served "big orange" potatoes. It didn't hurt that I grew up in Knoxville.
Sweet potatoes seem to be growing more in more in popularity and you find them on menus everywhere. (They are no longer just for Christmas or Thanksgiving.) While I have always enjoyed the sweet potato and almost always prefer it over the regular white potato, I am happy to see that it is finally receiving more popularity. I love being able to order sweet potato fries with my burger. 🙂 All this to say that when I make sweet potato fries at home I really like to dip them in sauce. As I was on a quest searching for just the right accompaniment I finally discovered this cajun dip. It was just what I was looking for. It is sweet and spicy and a perfect addition to my sweet potato fries although I think it would also be great with some regular fries as well.
Cajun Dip
Ingredients:
1/4 cup mayonnaise
1 tablespoon ketchup
1 teaspoon molasses
1 1/2 teaspoon Cajun seasoning
Directions:
Combine all ingredients together in a small bowl and whisk until smooth. Serve alongside hot sweet potato fries.