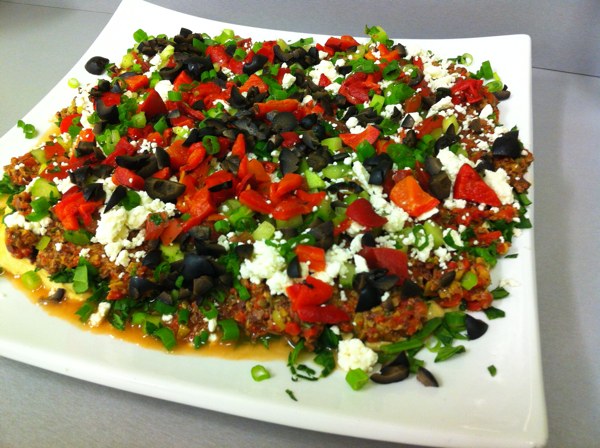 I love layered salad/dips. I don't make them very often, but when they are offered I just can't seem to get enough. Recently we were at a graduation party and they had the "traditional" layered dip with refried beans, guacamole and such and it was delicious. I ate more than my share and it made me think about a Mediterranean version I had heard about in Midwest Living.
I love the Mediterranean flavors and thought it would make a great addition to a menu I had planned for a catering event. The dip turned out great! Everyone loved it. I especially loved the flavors and think it would make a great lunch wrapped up in a pita. It was so much fun to put together and you can be quite the abstract artist in the process.
This also makes a great snack to take to the pool. When I took it to the pool, I just made a smaller batch and put it in a small disposable container and kept in in a cooler bag.
Eight-Layer Mediterranean Dip
Printer Friendly Recipe
Ingredients:
hummus
olive tapenade
2 medium tomatoes, seeded and chopped
1 cup seeded and chopped cucumber
3 tablespoons Italian (flat-leaf) parsley, minced
4 teaspoons fresh mint, minced
2 teaspoons lemon juice
1/8 teaspoon kosher salt
1/8 teaspoon coarsely ground black pepper
2 cups shredded fresh spinach
4 ounces crumbed feta crumbled
1/4 cup sliced green onions
1/4 cup chopped pitted ripe olives
pita bread or pita chips for dipping
Directions:
Prepare Hummus and Tapenade; set aside along with remaining chopped roasted red sweet peppers.
In a medium bowl, combine tomatoes, cucumber, parsley, mint, lemon juice, salt and black pepper; set aside.
To assemble dip, spread Hummus on a 12-inch serving platter with sides; arrange spinach atop Hummus layer. Drain excess liquid from Tapenade, if needed. Spoon Tapenade over the spinach.
Drain excess liquid from tomato mixture; discard liquid. Spoon tomato mixture over Tapenade layer, sprinkle feta over tomato mixture. Top with reserved chopped roasted red sweet peppers (from making tapenade), green onions and olives.
Tip: *Tip for quicker preparation: Instead of making the Hummus, use 1 1/2 cups purchased hummus and 1 1/3 cup purchased tapenade. Assemble as directed above.
*Assembled dip may be covered and chilled up to 1 hour before serving.
Hummus
Ingredients:
1 15 to 16 ounce can garbanzo beans (chickpeas)
1/4 cup tahini (sesame paste)
3 tablespoons lemon juice
2 tablespoons olive oil
2 cloves garlic, minced
1/2 teaspoon paprika
1/4 teaspoon salt
1/4 teaspoon ground cumin
Directions:
Rinse and drain garbanzo beans. In a food processor, combine garbanzo beans, tahini, lemon juice, olive oil, garlic, paprika, salt and ground cumin. Cover and process until the mixture is smooth, stopping and scraping the sides as necessary.
Olive Tapenade
Ingredients:
1 12 ounce jar red sweet peppers
1/2 cup pitted kalamata olives
1/2 cup pimiento-stuffed green olives
2 tablespoons olive oil
1 tablespoon fresh basil, chopped
1 tablespoon drained capers
1 teaspoon fresh oregano, chopped
1/4 freshly ground black pepper
Directions:
Drain roasted red sweet peppers. Pat dry with paper towel. Measure 1/2 cup red sweet peppers to use in the tapenade and chop the remaining for one of the layers in dip; set aside. In a food processor, combine the 1/2 cup drained red sweet peppers, kalamata olives ripe olives, pimiento-stuffed green olives, olive oil, snipped fresh basil, drained capers, snipped fresh oregano and freshly ground black pepper. Cover and process with several on-off turns until coarsely chopped.