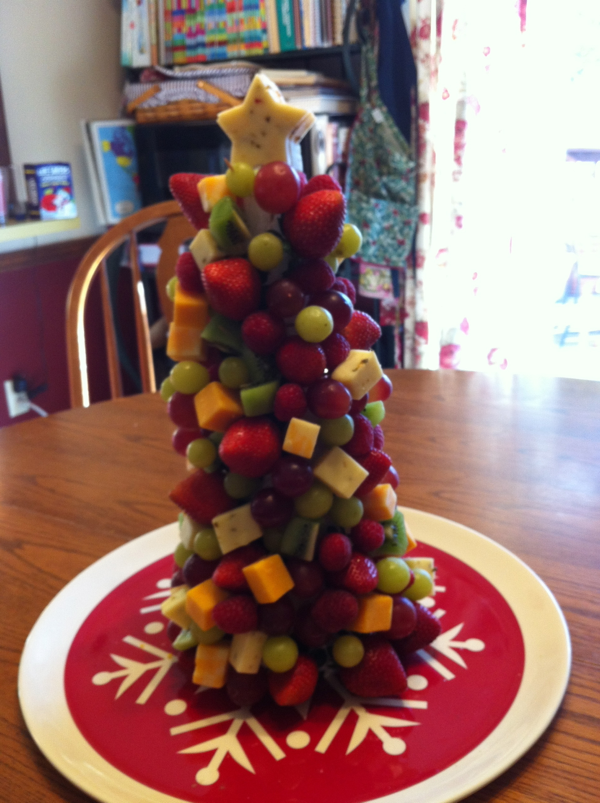 During our Christmas celebrations last year, this little tree doubled as our centerpiece and appetizer  I have been waiting all year to share it with you. I first saw something like it on Pinterest and knew I wanted to try to create one of my own. Jeffrey thought I was crazy, but he was up for the challenge.
Once we were finished with the tree, we were both quite happy with the way it looked. It was a dangerous activity sticking all the toothpicks into the cone, but well worth the outcome in my opinion. I'm not sure how much Jeffrey enjoyed sticking the toothpicks in though I think he just figured this was a good way to score some brownie points. I loved that it was a festive way to present fruit and cheese for consumption.
All you need is a Styrofoam cone, toothpicks, and fruit and cheese of your choice. We wrapped the cone in plastic wrap (to make it more sanitary and then stuck toothpicks all over the cone starting at the bottom and moving up until the whole cone was covered with toothpicks. (Your cone will resemble a medieval torture devise in this stage.) Once all the toothpicks are in place start assembling your fruit onto the tree. Again I started at the bottom and worked my way up. We used strawberries, kiwi, red and green grapes and an assortment of cheese cubes. We finished the top of ours with a star shaped piece of cheese cut from a cookie cutter.
I think this would make a great addition to a holiday buffet, but ours served as the centerpiece for our table on Christmas and doubled as an appetizer while we were waiting on our meal.