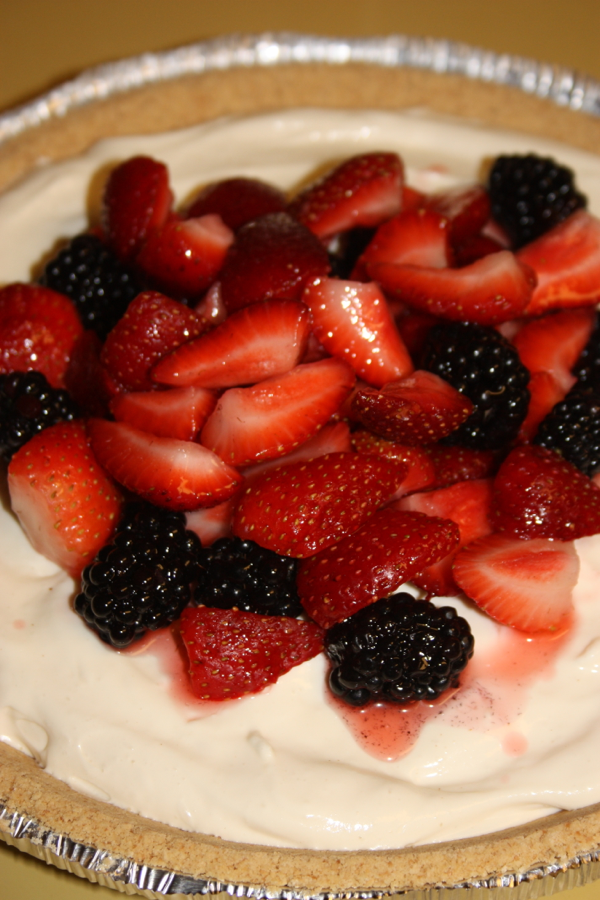 The other day I was in need of a dessert. I wanted something that would be quick to put together and something that wouldn't heat up the kitchen. I remembered making these cheesecakes with my mom and thought it would be perfect for the occasion. Fortunately, I had everything on hand to make the cheesecake so that made the process even better. While I know this is not the same as laboring over the baked cheesecake variety, it is a nice quick alternative and perfect for these last hot days of summer.
These kind of quick deserts are also great for unexpected company or when you need to throw something together for a pot luck dinner.  What are your go-to recipes for the unexpected company or when you need to scare up a desert in a hurry?
No Bake Cheesecake
ingredients:
1 pre-made graham cracker crust
2 8-ounce packages cream cheese, room temperature
1 14-ounce can (1 1/4 cups) sweetened condensed milk
1/4 cup fresh lemon juice
1 teaspoon vanilla extract
directions:
Using an electric mixer set at medium-high speed, beat the cream cheese in a large bowl until smooth. Beat in the condensed milk a little at a time, scraping the sides of the bowl as necessary. Beat in the lemon juice and vanilla.
Pour the filling into the crust; smooth the top with a rubber spatula if needed. Cover with plastic wrap (or the lid to your purchased pie crust), and refrigerate for 2 1/2 to 3 hours or until firm. Top with cut strawberries, raspberries and blackberries tossed with 1 tablespoon of sugar.