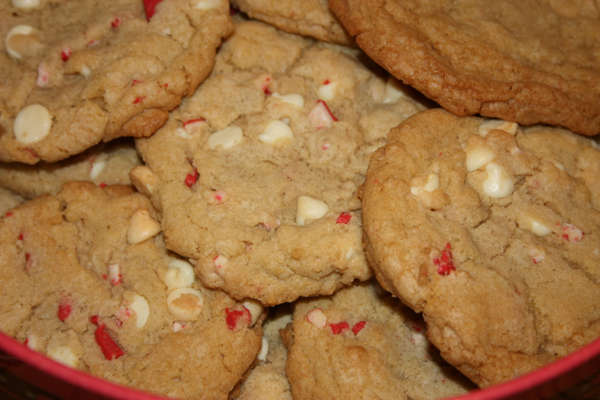 I finally have gotten around to baking Holiday cookies and I have been in heaven! I'm enjoying my time in the kitchen making treats. I normally only bake one or two things, but this year I have quite a list of goodies that I am baking to insure that Tyler has lots of gluten free options.
This cookie was on my list of cookies to make since I first saw it on another blog. Tyler is not a fan of mint flavors so after double checking with him to make sure he wasn't interested in this flavor I decided to go with regular flour in the recipe. I am so glad that it made it to my cookie list this year because while he hates mint, I think this is my new favorite cookie.
I loved them so much that I enjoyed one with my cup of coffee for breakfast and then another after lunch. I may even be baking another batch before the Holidays are over because I do not want to run out of these babies. Can you tell how much I love them?
Peppermint-White Chocolate Chip Cookies
Ingredients:
2 cups plus 2 Tablespoons all-purpose flour
1/2 teaspoon baking soda
1/2 teaspoon kosher salt
1 1/2 sticks (12 tablespoons) unsalted butter – melted and cooled until warm
1 cup packed light brown sugar
1/2 cup granulated sugar
1 large egg + 1 egg yolk
2 teaspoons vanilla extract
1 cup white chocolate chips
heaping 1/2 cup peppermint baking chips (I used Andes Peppermint Crunch Baking Chips)
Directions:
Preheat the oven to 325 degrees and adjust the racks to the upper and lower-middle positions. Line two baking sheets with silicone baking liners.
In a medium bowl, whisk together the flour, baking soda, and salt. Set aside.
In the bowl of a stand mixer beat the butter and sugars together until thoroughly blended.
Beat in the egg, yolk, and vanilla and until combined. Add the dry ingredients and beat at low speed until just incorporated, then use a wooden spoon to stir in the white chocolate chips and peppermint chips.
Use a large scoop to portion the dough into balls. Place the formed dough on the prepared baking sheets, pressing the mounds down slightly. (I got six cookies per sheet pan.)
Bake until the cookies are light golden-brown and the outer edges start to harden, but the centers are still soft and puffy, 15 to 18 minutes. Rotate the baking sheets front to back and top to bottom halfway through baking.
Cool the cookies completely on the baking sheet.