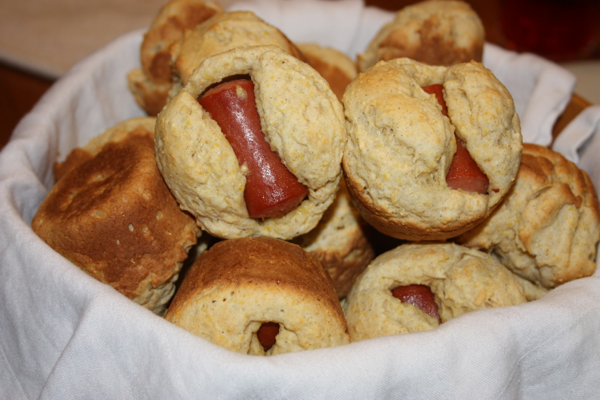 This past weekend has been all about fun for the boys. Their big present for their birthdays was a couple nights at Great Wolf Lodge with each bringing a friend. We had a blast!
Due to Jeffrey's recent injury, I was the one running after them most of the time. Lets just say that we were all worn out on Saturday. Since our stay at Great Wolf Lodge began with a Sporting KC soccer game, we also did our fair share of eating out for the last few days. When we got home I was ready for a home cooked meal though I wasn't looking for a lot of extra work. I decided on a pot of chili. (Ins't that always a good choice when the temperature decides to turn colder?) I thought it would also be fun to make these corn dog muffins. Unfortunately all of my corn meals contained flour. (What is up with that?) I did find a gluten free corn meal at the grocery store so it turned out to be easy after all.
You can use your favorite corn muffin or corn bread recipe, but you need to cook them in a muffin pan. I just stuck the hot dogs into the batter thinking that the batter would cover them. It didn't but I still thought they were fun. I'm not sure that I would make them differently. If you want the hot dog to be a surprise, put a small amount of corn bread batter in the muffin pan then the hot dog and finally cover with more corn bread mix. I think they will be delicious regardless of how you do it.
Corn Dog Muffins
Ingredients:
Corn Muffin Mix or your favorite corn bread recipe
Hot dogs, cut in half or thirds (I used bun length hot dogs cut into thirds.)
Directions:
Preheat oven to 375 degrees. Spray a muffin pan with nonstick cooking spray. Set aside.
Make the corn muffin mix or corn bread according to package directions. Fill each muffin cup with corn muffin batter. Insert hot dog into the corn bread batter. Bake for 20-25 minutes or until the corn bread is cooked and golden brown.
Serve with mustard, ketchup, and chili.