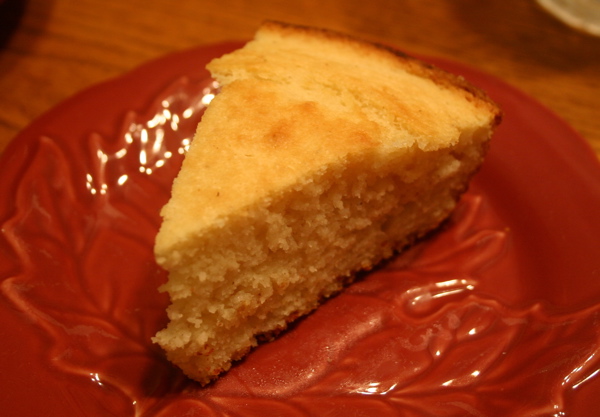 The other day I mentioned on facebook that I was making a big pot of chili to go with our snowy weather. The chili was delicious. We have managed to eat chili several times throughout the week by tweaking what we eat with it. I've enjoyed having the main dish already prepared and only have to make some sides or slight adjustments to make it worthy of another dinner meal. This convenience has been such a treat because I have been able to play more games with the boys and spend more time with Nani. She is getting more comfortable in the kitchen, but still doesn't like to hang out in there for extended periods of time.
One of the things we love to eat with chili is southern cornbread. In case you are not aware, "southern cornbread" has less sugar and isn't at all like a "cake." While I do enjoy the sweet cornbread, there is just something about the cornbread of my youth. I had actually been meaning to post a recipe for cornbread back in November to go along with some Thanksgiving ideas, but it just never made it to a post. When I make dressing for thanksgiving, I use this cornbread. With a request from one of my close friends and devoted readers, I knew I had to get in on the blog soon. So Pam, this is for you! Thanks for the request. If anyone else has a request please feel free to let me know by adding a comment below.
I am posting the recipe, but please know that to have the cornbread turn out as a traditional Southern cornbread you will need a cast iron skillet that is seasoned and corn meal mix (I have to import this from the South.)  If you don't already have a cast iron skillet, going for an older one from a garage sale or a hand-me down is a great way to get a skillet that is already seasoned.  If you need instructions on how to season a cast iron skillet, this is a great step by step tutorial. 
To mix things, up I'm giving you the pictures first so you can visualize what I'm describing in the recipe.
Now that you have a visual for the process. Here is the recipe!
Southern Cornbread
This recipe will fill a 10 inch skillet.  Use half the recipe for an 8 inch skillet. (When cooking for just the four of us I normally bake an 8 inch skillet of cornbread.)
Ingredients:
1/3 cup butter
2 cups corn meal
3/4 cup flour
1 tablespoon sugar
2 1/2 cups buttermilk
2 eggs
Directions:
Preheat your oven to 400° F. In a medium mixing bowl, combine corn meal, flour, and sugar whisking to combine. Whisk eggs and buttermilk together in a small bowl. Pour liquid into the dry ingredients and whisk until moistened. Place butter in cast iron skillet and place skillet in oven. Watch so that the butter does not brown, but is melted completely. Remove skillet and butter from the oven.   Pour the melted butter from the skillet into your batter and whisk to combine. Pour batter into hot skillet and place back in the oven for 20-25 minutes.
* To make a Mexican Cornbread add chopped onion and diced jalapenos (as much or as little as you like) into the batter. Pour half of the batter in the skillet then sprinkle with 1 to 2 cups Mexican cheese blend. Pour remaining batter to cover the cheese and bake.