I have been quite busy lately. It seems like I have been going nonstop from one thing to the next. End of school activities, catering, soccer, graduations and day to day life have kept me quite busy. Somehow I have managed to make it through so far, and hopefully I see the light at the end of the tunnel.
When you schedule activities back to back, you learn how to make the most of a situation. Scheduling multiple catering events back to back and then signing up to take treats to the teachers requires some creativity.  It also requires making enough of an item to use for more than just the next event.
I decided to use brownie bites for a catering event, but wanted to kick them up a notch. I decided brownie bites dipped in chocolate ganache would make a nice presentation and making a few extra meant killing two birds with one stone.
So if you need to jazz something up this ganache is perfect. I have used it to dip shortbread cookies, chocolate chip cookies, pecan bars, and brownies. It looks fantastic, is super easy, and tastes delicious.
Chocolate Ganache
Ingredients:
1 cup chocolate chips
1/2 cup heavy cream
1 teaspoon instant espresso powder
Directions:
Combine all ingredients together in a 2-cup microwave safe measuring cup. Heat on high for 1 minute. Stir and repeat in 30 second intervals stirring after each 30 seconds until the ganache is smooth. (Mine normally comes together after the first 30 seconds.) Use as a topping for brownies, dip for strawberries, or desserts of your choice.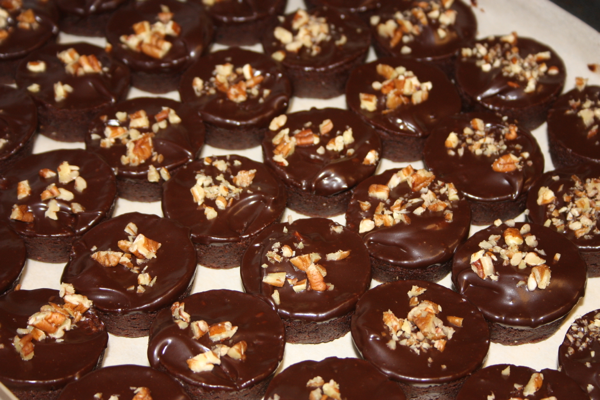 Adapted from Ina Garten.