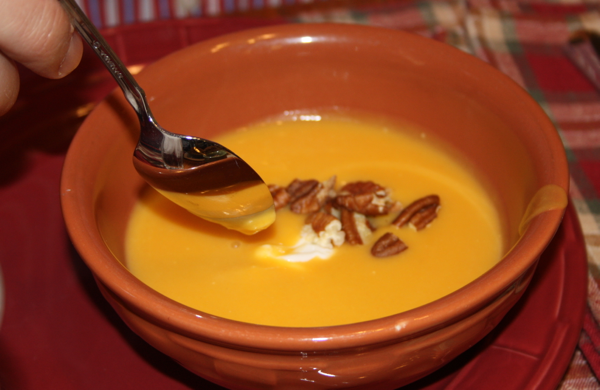 Back in the fall I attended a fundraising luncheon with one of Jeffrey's co-workers. It was a fun event and the money raised went to a great cause. When I attend any event that is catered, I am always taking mental notes about the food. I ask myself how I would do something? Sometimes I make a mental note that I need to try to recreate part or all of the meal. At the event there was a delicious butternut squash soup.  As soon as I tasted it, I knew that I needed to recreate it.
The need to recreate the soup has been lingering in the back of my head for several months now, but I finally got around to making some this past weekend when friends came over for lunch. I think the soup turned out well and everyone seemed to enjoy it. One of our guests even commented that he didn't like butternut squash, but really enjoyed the soup. I think this compliment gives me the right to say that I think this recipe is a winner. We served our soup along side a Harvest Apple Salad and Cuban sandwiches. We all left the table satisfied and happy.
Butternut Squash Bisque
Serves:8
Ingredients:
1/4 cup butter (1/2 stick)
2 medium carrots, sliced
2 celery stalks, chopped
2 medium leeks (white portion only), sliced
1 jalapeño pepper, seeded and minced
2 pounds butternut squash, peeled, seeded, and cut into cubes
1 quart chicken broth
1/2 teaspoon ground ginger
1/2 cup half and half
1/2 teaspoon salt
1/4 teaspoon white pepper
toasted pecans and greek yogurt for garnish
Directions:
In a large saucepan over low heat, melt butter. Add carrots, celery, leeks, and jalapeño and sauté for about 10 minutes. Add squash, chicken broth, and ginger. Bring to a boil. Reduce heat and simmer covered for 25 minutes or until the squash is tender. Let cool until lukewarm. Either use an immersion blender to blend until smooth or transfer soup in batches to a food processor or blender and blend until the mixture is smooth. Return the soup to the pan, stir in half and half, salt and pepper. Heat through but do not boil. Garnish with a dollop of greek yogurt (or sour cream) and toasted chopped pecans.
*I cooked my soup the day before and after blending the squash mixture I added the half and half, salt and pepper and refrigerated the soup. The next day I just heated the soup over low until it was heated through.
If you would prefer a vegetarian soup, just substitute vegetable broth in place of the chicken broth.
Adapted from The Ultimate Soup Cookbook