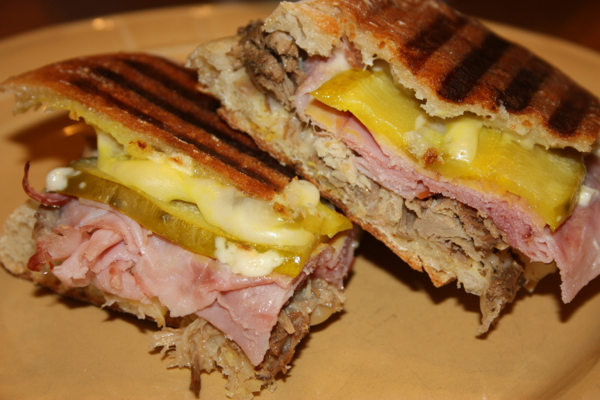 As promised in my earlier post about Dr. Pepper pulled pork, I wanted to share a way to use the pork leftovers. When we had our family birthday celebration,I had lots of pulled pork leftover (I suppose that is what happens when you cook two pork shoulders!). I wasn't complaining about having leftovers, but I was hoping to mix things up and make something new or different with the pork. While I was working on ideas, I remembered Cuban sandwiches a friend had made for a get-together. The sandwiches were a great way to use the leftover pork without feeling like we were eating the same kind of BBQ all week long. 🙂
Making Cuban sandwiches also allowed me to pull out my panini press again. The sandwiches are super easy to throw together. We had them Monday night and everyone had their own variation. Jeffrey left out pickles as he wasn't a fan.  Tyler used butter instead of the mayo/mustard mixture. So feel free to mix things up and customize these to your liking. I, however, loved all of the components so whether or not they are authentic I at least felt like I was being traditional.
Cuban Sandwiches
Printer Friendly Recipe
Ingredients:
Ciabatta bread
pulled pork
sliced ham
spicy mustard
mayonnaise
sliced dill pickles
swiss cheese
Directions:
In a small bowl, mix equal parts of spicy mustard with mayonnaise.  Slice your bread (if not pre-sliced) and place the mayo/mustard mixture on the top and bottom of your bread.  Place cheese on both the top and bottom of your bread.  Add a generous amount of pulled pork to the bottom layer then top with sliced ham.  Finally, add a thin layer of sliced dill pickles to cover the ham.
Place the top on your sandwich and cook in a panini press until the cheese is melted and the bread is crispy.