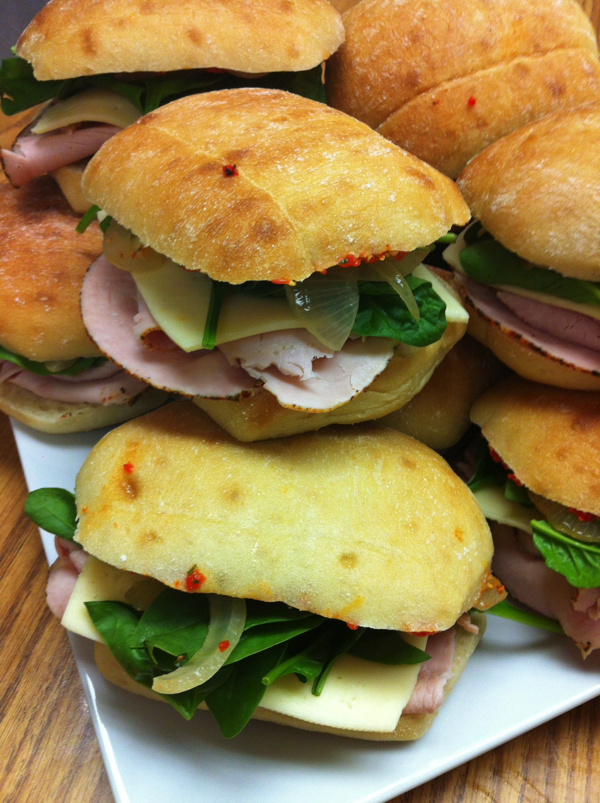 I first had these sandwiches years ago at a friend's house for lunch. I fell in love with them instantly. I had seen similar recipes, but had never given them a try because I wasn't sure how I would like the red pepper pesto. I loved the pesto on these sandwiches and have been making them ever since.
I was really surprised when I looked and realized that I hadn't posted this recipe to the blog to share the recipe with you. This sandwich is definitely greater than the sum of the parts as the way the flavors come together is surprising and delicious. When I make these sandwiches for lunches I cater, I always receive rave reviews.
These sandwiches would be great with soup on a cold fall or winter day. They would also be a great way to reuse your Thanksgiving leftovers and produce a completely different flavor profile. However (or whenever) you decide to try these sandwiches, I'm sure you will find the results to be great!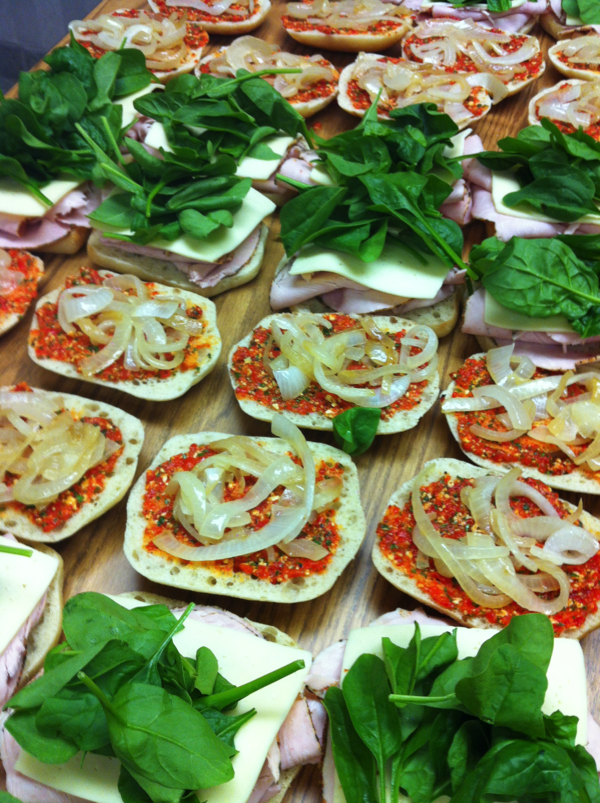 Roasted Turkey Sandwiches with Red Pepper Pesto
Ingredients:
Ciabatta rolls
roasted turkey
caramelized onions
havarti cheese
spinach or mixed baby greens
red pepper pesto*
Directions:
Slice the ciabatta rolls in half. Spread the red pepper pesto on the top halves of the bread. Place turkey, cheese, and caramelized onions on the bottom half of the buns. Top with spinach or mixed baby greens and then place the top of the bread on and press down. Enjoy!
For the Red Pepper Pesto:
Ingredients:
1/4 cup fresh basil, chopped
2 tablespoons fresh parmesan cheese, grated
1 tablespoon pine nuts, toasted
1 tablespoon water
2 garlic cloves, halved
1 (7 ounce) bottle roasted red peppers, drained
2 teaspoons olive oil
Directions:
Combine all ingredients in the bowl of a food processor. Pulse until the mixture comes together but is not completely smooth.