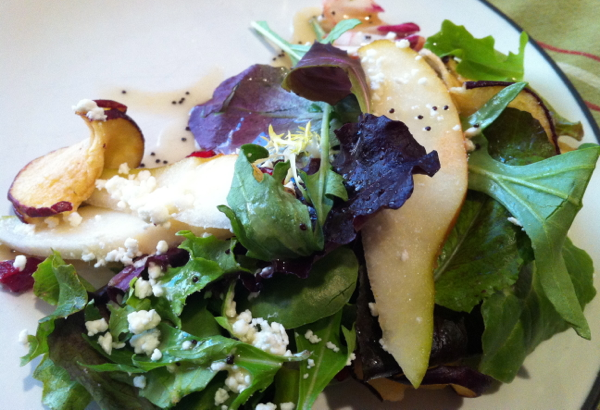 I don't know about you, but I have overindulged quite a bit for the holidays and now I am trying to eat a little bit lighter. To that end, I find that soups and salads are a great, filling and comforting meals. Not only are they delicious but they also can still be quite light.
I like pairing this salad below with a homemade salad dressing. I have almost completely stopped buying store bought salad dressings and find that I really love the fresh flavors of the homemade salad dressings. With the homemade variety, I also can't complain about having a long list of ingredients that I can't pronounce so I think it is a win-win situation. If you haven't tried making your own salad dressing, I highly recommend giving it a try. This salad will go nicely with any savory soup. We enjoyed it with a hearty beef stew my sister-in-law made thought it would go well with any soup.
Harvest Apple Salad with Poppy Seed Dressing
Ingredients:
baby mixed greens
crumbled feta cheese
slices of fresh pear (I use Bartlett pears.)
apple chips
dried cranberries
poppy seed dressing*
Directions:
Place the mixed greens in a salad bowl, top with feta cheese, fresh pear slices, dried cranberries, and apple chips. Serve salad dressing on the side. (You can toss the mixed greens with the dressing and then add the toppings but I have found if you let everyone dress their own salad you can save any leftover salad for later.)
*Poppy Seed Dressing
Ingredients:
1/3 cup honey
3/4 teaspoon salt
1/3 cup vinegar (I like white balsamic or apple cider vinegar.)
1 tablespoon dijon mustard (yellow mustard can be substituted)
1/3 cup canola oil
1 teaspoon poppy seeds
Directions:
Combine all ingredients in a pint sized jar. Seal the jar and shake vigorously until everything is combined. Store in the refrigerator. Shaking when ready to use.