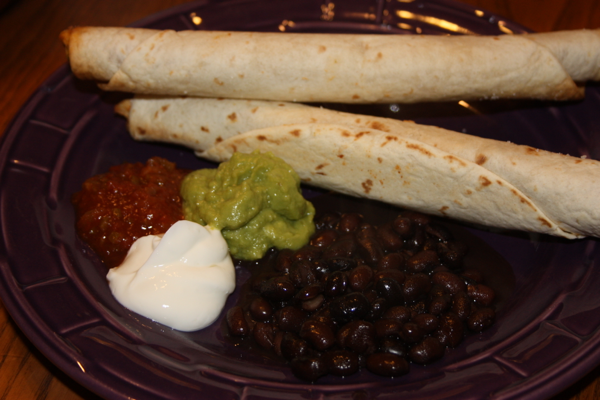 Wednesday I spent most of the day taking down Christmas decorations and boxing them up until next year. It was a good day, but all of my cleaning left me unprepared for dinner. I was racking my brain on what I could do that would be easy and be made with items on hand. Fortunately, I had cooked a whole chicken on Tuesday for a batch of chicken noodle soup (you could also use a rotisserie chicken from the store) and had saved some of the chicken for later. Knowing I had some chicken I could rely on it helped make me think of taquitos. I had been wanting to try this recipe for a while and after visiting Costco the day before and seeing the pre made variety in the freezer section I knew it was time to try my hand at making them.
Since I had chicken already prepared, this meal came together rather quickly and everyone enjoyed them. I rounded out the meal with some black beans and fruit salad. It was an excellent weeknight meal and I will gladly make it again in the future. I am even thinking about doubling the recipe next time and freezing half of them for an even quicker meal. I am also thinking that these will be making an appearance at our up and coming Superbowl party.
Chicken Taquitos
Printer Friendly Recipe
Ingredients:
4 oz. cream cheese, softened
¼ cup salsa
1 teaspoon chili powder
½ teaspoon ground cumin
½ teaspoon onion powder
2 cloves garlic, minced
3 tablespoons chopped cilantro
2 cups shredded cooked chicken
1 cup shredded Mexican cheese
12 flour tortillas
Cooking spray
Kosher salt
Directions:
Preheat the oven to 425˚ F. If you have a stoneware bar pan set it aside to use if not line a baking sheet with a silicone mat or parchment paper.
In a large mixing bowl, combine the cream cheese, salsa, chili powder, ground cumin, onion powder, and garlic. (I used a hand mixer to make sure the cream cheese was mixed in well but feel free to just stir until well combined.) Once the cream cheese mixture is well combined stir in the cilantro, chicken and shredded cheese. Mix thoroughly until well combined.
Briefly heat the tortillas in the microwave to make them soft enough to roll easily. Place a tortilla on a work surface. Spoon 2-3 tablespoons of the filling mixture down the middle of the tortilla. Roll the tortilla up tightly around the filling. Place seam-side down on your stoneware pan or lined baking sheet. Repeat with the remaining tortillas and filling, spacing the assembled taquitos evenly on the baking sheet. Spray the tops lightly with cooking spray and sprinkle with a kosher salt.
Bake 15-20 minutes, until crisp and golden brown. Serve with sour cream, salsa, and guacamole, if desired.