When I was younger, I could always count on my daddy to make me chicken noodle soup if I was under the weather. The other day, I was under the weather and my dear husband made me chicken noodle soup. I am spoiled.
It was not until last winter that I actually attempted making chicken noodle soup myself. I might have thrown some egg noodles in chicken broth and thrown in some shredded chicken but never made it from scratch. I finally decided that this was something I had to get under my belt. So I researched and went through recipe after recipe trying to find the one that would best suit our family. I finally found the answer in this recipe. The boys both enjoyed it and it hit the spot for Jeffrey and myself. I hope you enjoy it as much as we have.
I do not always make this soup using the recipe for the stock but it is a full bodied stock that does take the soup up a notch.
Chicken Noodle Soup
Ingredients:
2 tablespoons extra-virgin olive oil
1 medium onion, chopped
3 garlic cloves, minced
2 medium carrots, cut diagonally into 1/2 -inch thick slices
2 celery ribs, halved lengthwise, and cut into small cubes
4 fresh thyme springs
1 bay leaf
2 quarts chicken stock, (reserved from cooking your chicken, store bought stock or the recipe below if you want extra special broth)
1 lb. package dried wide egg noodles
1 1/2 cups shredded cooked chicken
kosher salt and freshly ground black pepper
Directions:
Add extra-virgin olive oil to a large soup pot over medium heat. Add the onion, garlic, carrots, celery, thyme and bay leaf. Cook and stir for 6-8 minutes, until the vegetables are softened but not browned. Pour the chicken stock in on top of the vegetables and bring it to a boil. Add the noodles and simmer for 5 minutes until they are tender. Fold in the chicken and continue to simmer until the chicken is heated through. Season with salt and pepper to taste.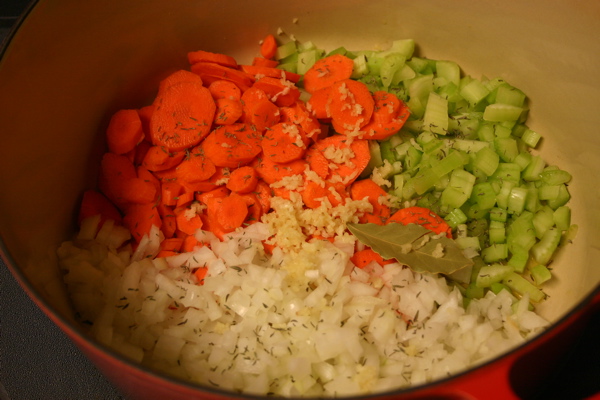 Exceptionally Good Chicken Stock:
1 (3 1/2 pound) chicken, rinsed and insides removed
2 carrots (break into large pieces if desired)
3 stalks of celery (break into large pieces if desired)
2 large onions, halved
1 head of garlic, halved
1/4 bunch fresh thyme
2 bay leaves
1 teaspoon whole black peppercorns
Place the chicken and vegetables in a large stockpot over medium heat. Pour in water to cover the chicken. Toss in thyme, bay leaves, and peppercorns, and allow it to slowly come to a boil. Lower the heat to medium-low and gently simmer for 1 1/2 hours, until the chicken is done.
Carefully remove the chicken and discard the skin and bones. Strain the stock through a fine sieve to remove the vegetables and seasonings. Use immediately or refrigerate for up to a week or freeze for later use.
Adapted from Food Network/Tyler Florence