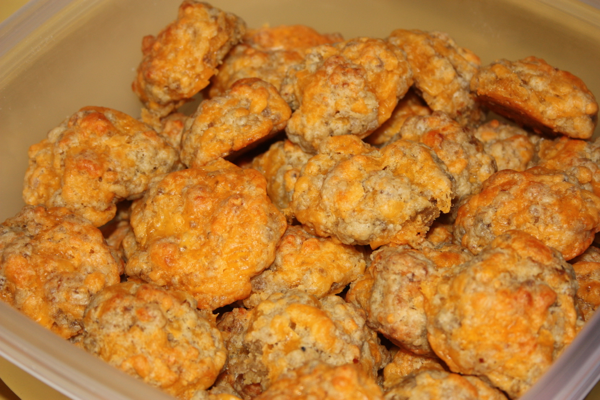 I have talked about sausage balls on this blog before, but they are so yummy that I thought I would share the original recipe as well as my previous blogged about altered recipe. Both recipes are delicious and each has their place in my opinion.
I am catering an event where the requested menu was appetizers. This menu request has gotten me out of my comfort zone and I have been trying to bump up my appetizer repertoire. (Don't worry, I will be sharing all of the recipes with you.) I decided to fall back on this recipe because it is always a fan favorite and I was needing something else to add to the menu that would be "man friendly." Does it get anymore manly than sausage and cheese? I don't think so. (Maybe not the most healthy option, but definitely a yummy one!)
As I was baking pan after pan of these little treats, I knew I needed to offer one to Jeffrey. After his first bite he said, "tastes like Christmas." While I am not sure that these sausage balls are the first thing I think of when I think of Christmas, they are definitely an appetizer that you will find at any self respecting "Southern" Christmas/Holiday party. I think I am going to have to include them in my own holiday celebrations this year. 🙂
Sausage Balls
Ingredients:
1 pound hot sausage
1 pound sharp cheddar cheese, shredded
3 cups Bisquick baking mix
Directions:
Combine the sausage, cheese, and biscuit mix together in a large bowl. Using your hands bring the mixture together until is will make bite size balls. (This will happen as the heat from your hands warms up the cheese and sausage.) Place the formed balls on a baking sheet spacing them out 1-2 inches. Bake for 20-30 minutes in a 325 degree oven until the sausage balls begin to brown. These may be baked ahead of time and reheated when ready to serve or can be served at room temperature.