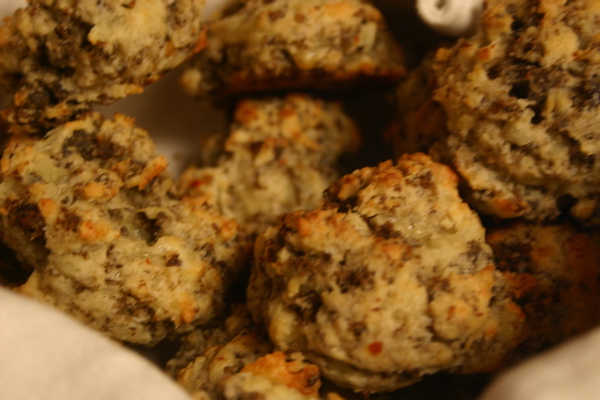 If you grew up in the South (the southeastern United States), you know about the tradition of sausage balls. It wouldn't be a potluck, Christmas, New Year's Eve, wedding or tailgate party without them. While these treats are not the prettiest appetizer at the party, they deliver on flavor and are gone like a flash.
In the South, we love our sausage and  biscuits. Adding cheese to the party will only make things better.  This jewel is the trifecta of southern treats.  I apologize to anyone who has not had the opportunity to partake of these heavenly bites. You have definitely missed out, but fortunately you now have the recipe.  Make these now!
This morning I was looking for something easy to throw together and immediately thought about sausage balls. While this recipe is a variation of the one I grew up with, it is still quite good. It also maybe a little bit better for you than the original. (Hear me, I am not saying these are healthy–just that this recipe has a little less fat than the original.)
Traditional sausage balls call for raw sausage, cheese, and Bisquick combined together, shaped into balls, and cooked. Easy enough! For this recipe I actually use cooked sausage that has been drained so you are eliminating some of the extra fat from the sausage (making it healthier). 🙂 I also like adding milk to the mixture helping these babies cook up to a little bit more fluffy than the slightly denser original.   Depending on the size you make these, they are great for popping into your mouth while running out the door.  They can also be savored with small bites and a glass of orange juice (Jeffrey's favorite way to eat them).
Sausage Ball Biscuits
2 cups Bisquick (or baking mix of your choice)
1 pound hot sausage, cooked and drained
10 ounces shredded sharp cheddar cheese (I used white cheddar this morning.)
1/2 cup milk
Combine all ingredients together in a large bowl and stir until well combined. The milk will help the mixture come together nicely so keep stirring until you have a thick batter that sticks together. Drop by large spoonfuls onto a cookie sheet. (I use a medium size scoop but you can make them as large or small according to your needs just adjust the cooking time accordingly.) Cook for 15-20 minutes at a 350 degree oven.