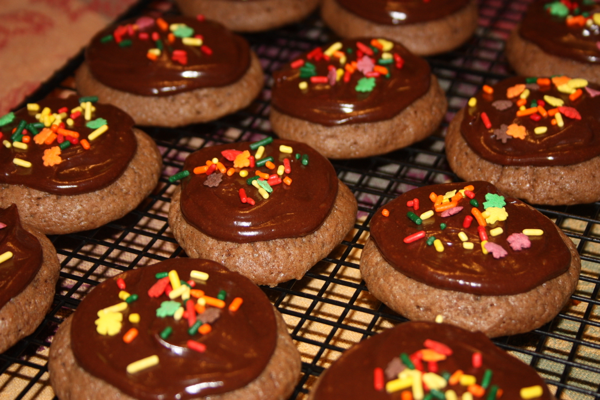 When I get stressed, one of the best places for me to seek refuge is the kitchen. Baking especially helps to get me back into my groove. The past two days have been a complete emotional roller coaster at our house. I don't want to go into detail about everything, but there have certainly been easier days.  So when I saw the recipe for these cookies on one of the blogs I read regularly, I knew it was just what I needed. So Tuesday evening, Jeffrey, Tyler and I worked in the kitchen to calm my nerves and to make these delicious cookies.
These cookies are very cake-like in texture and the frosting is just scrumptious. I like to think of these cookies as the chocolate lover's version of soft-frosted sugar cookies. Honestly I love them both but most of all am thankful that I could bake them to relieve some stress and share the cookies with others.
Chocolate Frosted Cookies
Printer Friendly Recipe
Yield: about 3 dozen cookies
Ingredients:
For the cookies:
1¾ cups all-purpose flour
2 tablespoons unsweetened cocoa powder
½ teaspoon baking soda
½ teaspoon salt
½ teaspoon espresso powder
2 (1-ounce) squares unsweetened chocolate, finely chopped
½ cup (1 stick) unsalted butter, at room temperature
1 cup sugar
1 large egg
1 teaspoon vanilla extract
¾ cup buttermilk
For the frosting:
1 cup bittersweet chocolate chips
1/3 cup plus 1 tablespoon sour cream
1 cup confectioners' sugar
Directions:
Preheat the oven to 375˚ F. Place silicone mats or parchment paper on your favorite baking sheets. In a medium-sized bowl, combine the flour, baking soda, salt, cocoa powder and espresso powder. Using a whisk, blend the ingredients and set aside. Place the chopped chocolate in a heatproof bowl and melt in the microwave using 30 second intervals (alternatively you can melt the chocolate over a pot of simmering water) until smooth. Set the chocolate aside and let cool until just barely warm to the touch.
In the bowl of an electric mixer, cream the butter and sugar by beating at medium-high speed until light and fluffy (should take around 2 minutes). Beat in the egg. After the egg is combined add the vanilla and melted chocolate beating until smooth. Reduce the speed of your mixer to low and add half of the dry ingredients, mixing just until incorporated. Add in the buttermilk and mixing until smooth. Mix in the remaining dry ingredients.
Drop the dough in spoonfuls onto the prepared baking sheets, about 1½ tablespoons per cookie (I use the Pampered Chef medium sized scoop), spacing each about 2 inches apart. Bake 8-10 minutes, just until set. Let cool on the baking sheet about 2 minutes, then transfer to a wire rack to cool completely before frosting.
To make the frosting, place the chocolate chips in a heatproof bowl. Melt in the microwave using 30 second intervals or over a pan of simmering water, stirring until smooth. Whisk in the sour cream. Continuing to use the whisk, add in the confectioners' sugar continuing to mix until the frosting is smooth and glossy. If necessary, you can thicken the icing by adding more sugar or thin it ou by adding sour cream. Frost cookies. For a bit of extra flare, decorate with sprinkles (optional).