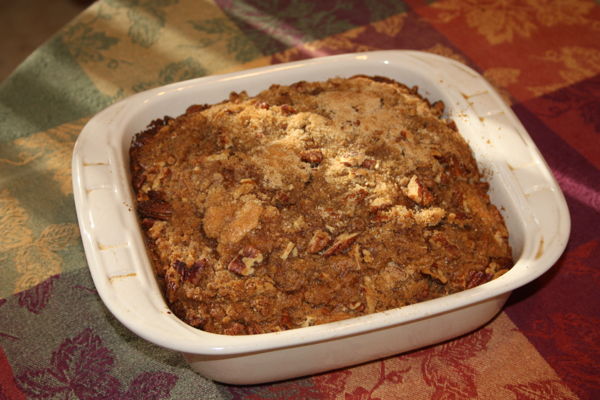 I had every intention of giving you more main dishes or side dishes this week, but when I saw this recipe I couldn't resist. After I made it, I knew I had to share it with you for the weekend.
I first saw this coffee cake on Pinterest. It sounded and looked like just the thing for Sunday breakfast. I was very pleased that I had just enough left-over pumpkin in my fridge from making the pumpkin cinnamon rolls. It must of been I sign that I was meant to make the coffee cake. Right?!?
The recipe is quite easy to put together, but it does require a long baking time. I actually pulled mine out after about 40 minutes and thought it was ready to eat. Unfortunately, when I cut two pieces from the edge the center began to ooze into the vacated space. I quickly stuck it back in the oven and hoped for the best. It turned out much better after 10 more minutes. I would suggest checking the cake with a toothpick after baking for 45 minutes and then continue baking if needed.
The overall opinion of the males in the household and the members of my Sunday School class was that this was a keeper. Definitely a nice treat for the weekend.
Pumpkin Coffee Cake
Printer Friendly Recipe
Ingredients:
2 cups flour
1 teaspoon baking powder
1/2 teaspoon baking soda
1 teaspoon cinnamon
1/4 teaspoon ground ginger
1/4 teaspoon allspice
1/4 teaspoon salt
1/4 teaspoon nutmeg
1 stick unsalted butter, softened
3/4 cup sugar
2 large eggs
1 1/4 cups pumpkin puree
1/2 cup sour cream or greek yogurt (I almost always use greek yogurt now instead of sour cream.)
1 teaspoon vanilla extract
For the pecan topping:
1/2 cup brown sugar
1/4 cup flour
1 teaspoon cinnamon
3 tablespoons cold butter
1/2 cup pecans, coarsely chopped
Directions:
Preheat oven to 350° F. Spray a square baking pan (9X9) with non-stick cooking spray. Whisk together flour, baking powder, baking soda, cinnamon, ginger, allspice, nutmeg and salt into a medium bowl. Set aside. In a stand mixer, cream together butter and sugar. Add in eggs one at a time, beating after each addition. Add pumpkin puree, sour cream and vanilla to the butter mixture and mix until incorporated. Slowly add in flour mixture, 1/2 cup at a time, while mixing on a low speed.
Pour cake batter into prepared pan, spreading the batter so that it is evenly distributed. Prepare the topping. In a bowl combine brown sugar, flour and cinnamon. Cut butter into small 1/2″ pieces and add to sugar mixture, cutting in with a pastry cutter or a fork, or by using your fingers to bring the mixture together. Stir in pecans.
Spread topping mixture over cake batter. Bake at 350° F for 40-45 minutes or until top starts to brown lightly and a toothpick inserted in the center comes out clean.