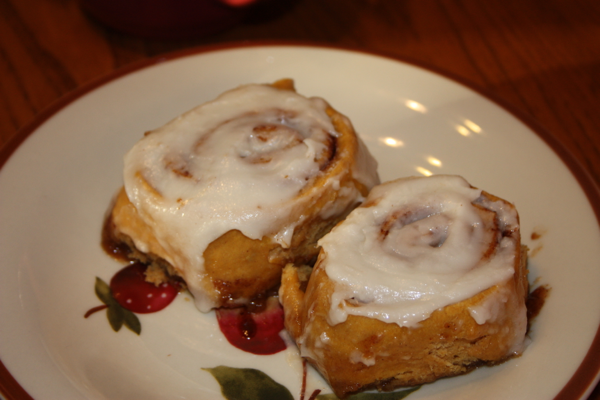 Since this past weekend was the first official weekend of fall, I embraced the fall flavors and did lots of baking. One of the items I experimented with was cinnamon rolls. Our family loves cinnamon rolls and it had been way too long since we had enjoyed a batch so I knew it was time. I decided to experiment with our favorite cinnamon rolls and add some fall flavors. I think it was an overall success.
I put the cinnamon rolls together Friday night and let them rise in the refrigerator overnight. Saturday morning all I had to do was stick them in the oven and put together the icing. They didn't get as big as my normal cinnamon rolls, but they were still delicious. (They might have gotten bigger if I let them rise for about an hour after being refrigerated before baking but under the circumstances they were just fine.)
The boys simply loved the new cinnamon rolls and with the addition of pumpkin and whole wheat flour they have a slight advantage over our traditional rolls. Regardless of nutritional value I think they are an excellent addition to my cinnamon roll making skills and will be a nice treat to add some fall flavors to a family favorite.
Pumpkin Cinnamon Rolls
Printer Friendly Recipe
Ingredients:
Dough:
¾ cup warm milk (100 to 110 degrees)
½ cup pumpkin
2 ½ tablespoons melted butter
1 tablespoon honey
2 ¼ teaspoons yeast (1 package)
1 teaspoon salt
⅛ teaspoon nutmeg
1 ¾ cup flour (plus 1 – 2 tablespoons, if needed)
1 cup whole wheat flour
Filling:
⅔ cup brown sugar
1 ½ tablespoons ground cinnamon
3 tablespoons melted butter
Icing:
3 tablespoons butter, softened
1 tablespoon half and half
1 tablespoon maple syrup
½ teaspoon vanilla
1 cup powdered sugar
Directions:
To prepare the rolls, combine milk, pumpkin, butter, honey, and yeast together in a large bowl; let stand for 5 minutes. (This allows the yeast to activate and begin to start bubbling.)
Combine the flours, salt, and nutmeg together and stir to combine. Add the flour to the pumpkin mixture and stir to combine. When the dough starts coming together knead until the dough is smooth and elastic. (You will add the extra tablespoons of flour at this time if needed.) This can be done either by hand or in a large stand mixer using the dough hook.
Place the dough in a large bowl coated with cooking spray; turning the dough to coat the top. Cover with plastic wrap and let rise in a warm place for 35 minutes to 1 hour. The dough will be ready when it has doubled in size. Punch down the dough and let it rest for 5 minutes.
While waiting on the dough to rest combine brown sugar and cinnamon together in a small bowl.
Turn the dough out onto a lightly floured surface; roll dough into an 18 X 11-inch rectangle. Brush the dough with 3 tablespoons melted butter; sprinkle evenly with the brown sugar mixture. Beginning on a long side of the dough, roll up jelly roll style. Cut dough into 15 slices. Arrange slices, cut sides up in a 9 X 13 baking dish, coated with cooking spray. Cover and let rise about 35 minutes or until doubled in size. (Or refrigerate and let rise in the refrigerator overnight.)
Preheat oven to 350 degrees.
Uncover rolls. Bake at 350 degrees for about 20 minutes or until lightly browned. Cool slightly and then frost with icing.
To prepare icing, combine softened butter, half and half, and maple syrup with a whisk. Stir in vanilla. Gradually add powdered sugar; stirring until blended. Spread icing over rolls.