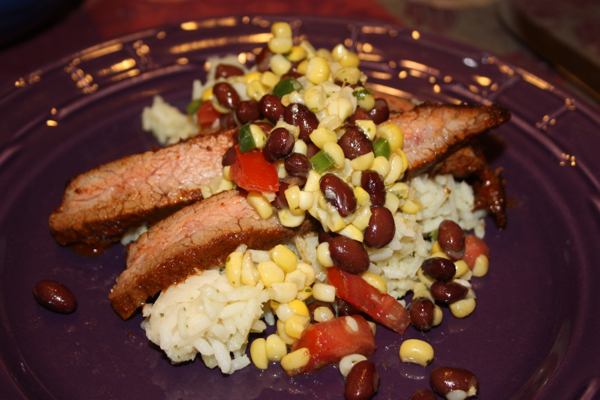 After over a year of food blogging, one thing I've discovered is that while I like to try new things there are certain ingredients that seem to make regular appearances on my table. Flank steak is one of those ingredients.  I'm not sure exactly what it is about that cut of steak, but perhaps it is the combination of the flavor and the way that it is economical that makes this steak a favorite.
I purchased a new Cookbook this past week: The America's Test Kitchen Healthy Family Cookbook.  I liked the regular The America's Test Kitchen Family Cookbook and the things that I have made from that Cookbook so I thought I would pick up this cookbook based on the title and my previous experience.  This new cookbook has some great ideas and I am excited to try them and to share my new finds with you as I try things.
Today's offering is a great flank steak recipe that earned approving nods from the food critics around my table.  The corn salsa wasn't the kids favorites, but Jeffrey and I loved the salsa.  We served the flank steak with rice seasoned with cilantro and it was a satisfying and healthy meal.
In case you missed previous flank steak recipes, I recommend: Burbon and brown sugar flank steak or Pho bo.
Chili Flank Steak & Corn Salsa
Printer Friendly Recipe
Corn Salsa
Ingredients:
4 1/2 teaspoons extra-virgin olive oil
2 ears of corn, kernels removed (I actually used four and had extra salsa left over.)
1 can black beans, drained and rinsed
1 jalapeno, stemmed, seeded, and finely chopped (for spicier salsa, leave the seeds in)
1 tomato, chopped
2 tablespoons minced fresh cilantro
2 tablespoons fresh lime juice
2 garlic cloves, minced
Salt and Pepper to taste
Directions:
Heat 1 1/2 teaspoons of olive oil in a 12-inch skillet until the oil shimmers.  Add corn and cook until the corn is golden brown (around 4 or 5 minutes).
Transfer corn to large bowl, adding the remaining olive oil and the rest of the ingredients.  Salt and pepper to taste and set aside while cooking the steak.
Chili Flank Steak
Ingredients:
1 (1.5 lb) flank steak trimmed of visible fat
2 teaspoons ground cumin
2 teaspoons chili powder
1 teaspoon ground coriander
1/8 teaspoon sugar
1/8 teaspoon ground cinnamon
1/2 teaspoon salt
1/2 teaspoon pepper
2 teaspoons canola oil
Pat the steak dry with paper towels.  Mix remaining ingredients together than spread evenly over the meat pressing on the meat to make sure the rub adheres.
In a large non-stick skillet (I didn't have one so I used my electric griddle), heat your oil at medium-high until it is almost smoking.  Brown the steak well (3-5 minutes) on one side. Flip the steak over and reduce heat to medium cooking another 5 to 10 minutes longer until the internal temperature reaches 125 degrees for medium rare or higher if you like your steak more done.
Adapted from The America's Test Kitchen Healthy Family Cookbook.