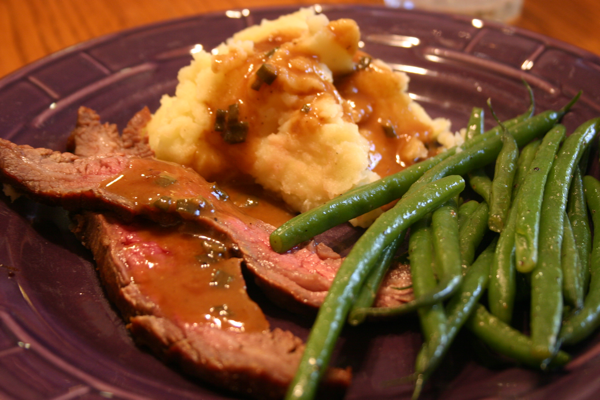 People are always asking me what cuts of meat I buy. I am fortunate enough that I get beef from my dad (who raises cattle), but the one cut of meat that I do always seem to purchase is flank steak. It is my all time favorite (besides filet of course). I love to use it in fajitas and this bourbon and brown sugar flank steak.
This recipe is up there as one that I have used over and over again. I probably could find lots of other ways to cook flank steak, but this one is just so darn good. I have served this on many special occasions, catered with it, and served it for a weeknight meal. This was my meal of choice for my birthday this year. We like to serve the meat and potatoes with either sauteed green beans or asparagus and nice crusty bread.
You will be very happy to know that this meal comes together very quickly once the prep work is done the evening before. Don't worry, the only thing you need to do the night before is put your marinade together and get your steak in the fridge. Super easy! One thing about flank steak if you aren't familiar with it is that you need to cut it across the grain or it will be tough.
Bourbon and Brown Sugar Flank Steak with Garlic Mashed Potatoes
Printer Friendly Recipe
Ingredients for Flank Steak:
1/4 cup packed brown sugar
1/4 cup minced green onions or chives
1/4 cup bourbon
1/4 cup soy sauce
1/4 cup dijon mustard
1/2 teaspoon ground black pepper
1/4 teaspoon Worcestershire sauce
1 (2-pound) flank steak
Directions:
Combine brown sugar, green onions, bourbon, soy sauce, dijon mustard, black pepper, and Worcestershire sauce together in a large zip-top plastic bag. I usually just massage the ingredients together in the bag until they are well combined. Add the steak to the bag, seal and marinate in the refrigerator 8 hours or preferably overnight. Turn the bag occasionally.
Prepare grill.
Place the steak on the grill reserving the marinade and grill 7 minutes on each side or until desired degree of doneness. Remove the steak from the grill and cover loosely with aluminum foil. Let the steak rest for 10 minutes. Cut diagonally across the grain into thin slices.
Pour the reserved marinade into a small saucepan and bring to a boil. Boil for 1 minute. If you would prefer a thicker sauce you can add 1/2 teaspoon of cornstarch to the mixture as you add it to the saucepan but be sure to stir constantly as it cooks.
Ingredients for Potatoes:
3 pounds small potatoes (red or yukon gold are my favorites)
3-6 cloves of garlic, peeled but still whole
1/2 cup sour cream (sometimes I substitute plain greek yogurt or even buttermilk for both the sour cream and milk)
1/3 cup milk
2 1/2 tablespoons butter
1 teaspoon salt
1/4 teaspoon black pepper
1/4 cup chopped chives (if desired)
Directions:
Place potatoes and garlic in a large pot. Cover with water. Bring to a boil. Reduce heat; simmer 20-30 minutes or until the potatoes are tender. Drain off the water.
Return the potatoes and garlic to the pot. Using a hand mixer, begin to mash the potatoes. Once they begin to break up and become mashed add sour cream, milk, butter, salt, and pepper. Continue mashing with the hand mixer until the desired consistency. (You also could use a potato masher but I prefer to use the hand mixer.) Stir in the chives if using.
Serve the potatoes and flank steak with a good drizzle of the marinade over top. Sprinkle with additional chives if desired.
Adapted from Cooking Light September 2002