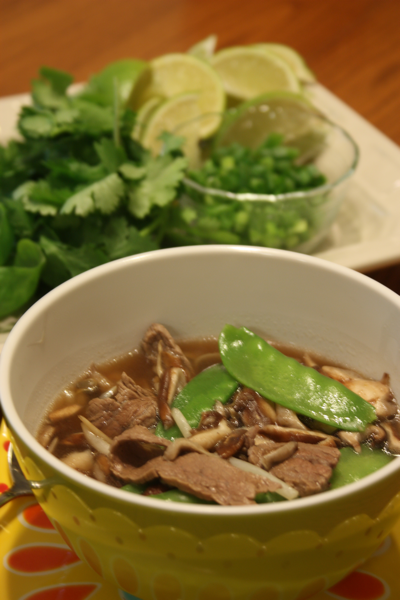 As we are getting ready for the boys to go back to school, it makes me think of how time seems to be flying by as my boys are growing up. I remember thinking how slowly things were going while I was pregnant. It seemed like that was the longest 40 weeks (actually it was only 39 weeks) as I waited to hold my precious baby. Today I wanted to share with you about some friends who have been waiting over 3 years for their precious daughter. When I found this recipe for Vietnamese-Style  soup (phở bò), I knew it was time for me to share this story and recipe with you.
Chuck and Marsha have been in the adoption process for over 3 years. When I think about, it my heart just breaks for them. I know adoptions can take some time, but this is ridiculous. They received and accepted their referral for their daughter when she was 7 months old. Their daughter is now 3 1/2 years old and has yet to come home. Their adoption along with 15 others have been delayed in large part due to the Department of State's insistence that these cases can only proceed once Vietnam becomes a full Hague partner, implementing the Hague Convention on Intercountry Adoption to the satisfaction of the United States. The sixteen American families were assured by the US Government in August 2008, prior to accepting their referral, that they would be allowed to complete their adoptions.
It is undisputed that these children are orphans. However, due to the changing laws and shifting political landscape, there has been an unwillingness to find a solution that is in the best interest of the children. These children deserve to grow up in loving families.
If you would like to help them bring their daughter home along with 15 other children stuck in the same political red tape, below is a link to send petitions to political leaders in the US. If this moves your heart like it does mine, would you consider adding your name to the petition?
Bring Home the Bac Lieu Orphans
I am sharing this recipe with you in honor of these families waiting on their children. I hope you make this delicious soup and say a pray for these families and for all of the other families out their waiting on a child either through adoption or through a pregnancy of their own.
Jeffrey was introduced to Vietnamese cuisine by a friend from work. After a few trips to the Vietnam Cafe, I think we are both converts. Everyone at our house really enjoyed the soup (even our sometimes picky children). As the weather begins to cool, we will have this on a regular rotation at our house and hopefully someday soon we can take a pot of it to our friends Chuck and Marsha as they celebrate the homecoming of Claire.
Vietnamese-Style Beef Noodle Soup
Printer Friendly Recipe
Yield: 6-8 servings
Ingredients:
For the Broth:
1 tablespoon canola oil
2 medium onions, diced
4 cloves garlic, minced
1 tablespoon ginger, minced
zest of 1 lime
1/3 cup fish sauce
4 cups low-sodium chicken broth
4 cups beef broth
2 cups water
2 tablespoons soy sauce
2 tablespoons sugar
5 star anise pods
5 whole cloves
Noodles, Meat, and Garnish
8 ounces dried, flat rice noodles (I used Udon noodles since I couldn't find the rice noodles.)
1 cup shiitake mushrooms, sliced
1 cup snow peas
1 cup bean sprouts
1 cup loosely packed Thai basil
1 cup loosely packed cilantro leaves
2 green onions, sliced thin on the bias
12 ounces flank steak, sliced thin across the grain (I found it is easier to slice the meat if you stick it in the freezer for 30-45 minutes.)
Directions:
For the Broth:
Heat the oil in a medium-large stock pot over medium heat. Add the onions and saute for 2-3 minutes. Add the garlic, ginger, lime zest, and 1 tablespoon of fish sauce. Cook until vegetables are soft, about 4 more minutes. Stir in the chicken broth, beef broth, and water. Bring to a boil.
Stir in the soy sauce, sugar, anise, cloves, and remaining fish sauce. Cover, reduce to a gentle simmer and cook until the flavors have blended, about 15 minutes. Strain through a fine mesh strainer. Broth can be made up to a day in advance and refrigerated until needed.
For the Noodles, Meat and Garnish:
Cook the noodles according to package instructions. Drain the noodles, and portion them between the bowls. Arrange the basil, cilantro, lime wedges, and green onion on a plate.
Return the strained broth to a clean saucepan, bring to a brief boil, then turn off the heat but leave the pot on the hot burner. Stir in the beef, mushrooms, snow peas, and bean sprouts and let stand for 2-3 minutes. Ladle the soup on top of the prepared bowls. Serve immediately, topping with garnishes of your choice.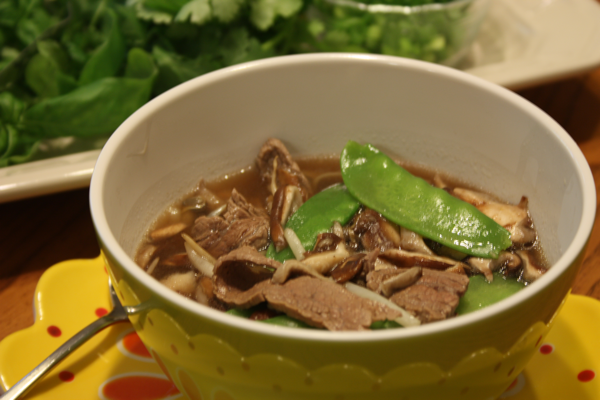 Adapted from America's Test Kitchen