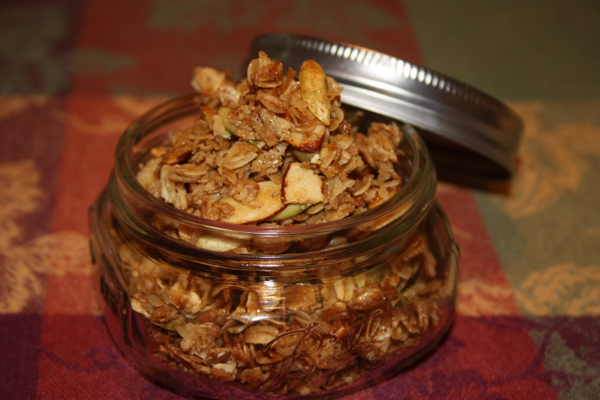 So I haven't quite made it to vegetables or main dishes, but this is a step in the right direction, right? You know I love oats and yesterday I decided to play around with flavors in my coconut almond granola. I am so glad that I was feeling adventurous. This recipe is another great breakfast or snack with awesome fall-inspired flavor.
Today, I packed up a small jar with some greek yogurt and sent it with Jeffrey to work for a breakfast on the run. It wasn't long after he made it to work that I had a message from him saying thanks for the delicious granola. When he got home, from work he informed me that he was glad I am always experimenting with recipes (especially granola) because it adds variety. He loves granola, but eating the same flavor time after time can get boring. I agree with him. Variety is a necessary and important thing for enjoying food. I think he will be enjoying this variety for a week or two.
I was also thinking that it might be time to make pumpkin mousse as this granola would be great topping.
Chai-Spiced Granola
Ingredients:
4 cups old fashioned oats
1 cup sliced almonds
1 cup raw pumpkin seeds
1/2 cup sweetened shredded coconut
1 teaspoon ground cinnamon
1/2 teaspoon salt
1/4 teaspoon ground cloves
1/4 teaspoon all-spice
1/2 teaspoon ground ginger
1/4 teaspoon nutmeg
1/4 teaspoon black pepper
3 tablespoons butter
1/4 cup vegetable oil
1/4 cup honey
1/2 cup brown sugar
1 teaspoon vanilla extract
Directions
Preheat to 325° F.
In a large bowl, combine oats, pumpkin seeds, sliced almonds, sweetened coconut, cinnamon, salt, ground cloves, all-spice, ginger, nutmeg and black pepper. Set aside.
In a medium saucepan, combine butter, oil, honey and brown sugar together and cook over medium heat until the sugar is dissolved and the mixture begins to boil. Carefully whisk together so it's well incorporated. Add the vanilla extract. Pour the warm mixture over the oat mixture and toss together with a wooden spoon, ensuring that all of the oat mixture is moistened by the liquids.
Spread mixture onto a large stoneware bar pan (my preferred method) or large rimmed cookie sheet (lined with either parchment paper or a silpat liner to keep granola from sticking) and bake for about 25 to 30 minutes, stir twice during baking to ensure even browning. Remove from the oven, let cool and store in an airtight container for up to two weeks.
Serve with yogurt or milk.